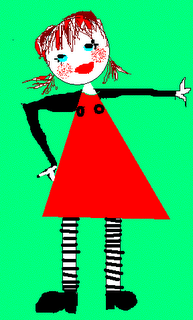 Since I don't have fancy technology like a digital camera, or even a regular camera, I couldn't take a pic of me in my new dress so here is an artist's impression. I wore my stripey stockings today too.
The round circles on my chest are the buttons, not my boobs, just in case you were wondering.
I think it's a pretty accurate picture cos I look like a kid's drawing in it.
I have a funny story but it might be TMI for some people so look away now. Tonight I went for a run and half way I really needed to poo. I thought I could wait but had to slow down to a walk and, about half a km from home, realised it got more urgent. I walked past a pub and could see their toilet sign so thought I'd duck in and use it. The bar looked practically empty anyway.
I walked through the bar, looking all sweatily elegant in my running tights and tee-shirt but the toilet sign lead to a corridor and, at the end of the corridor, was a room filled with dressed up families eating dinner. I had to walk right though the middle of them to get to the ladies! It was rather embarassing.
I also have another funny story but look away if you don't want to hear intimate details of my housemates. The night before last, I was about to go to bed and wanted to use the bathroom. My housemate was in the shower so I waited and waited and waited. I'd almost dozed off when he came out because it took him over half an hour.
I walked into the bathroom and wonder why my housemate had been reading a magazine in the shower - cos I'm pretty naive and unworldy. Then I saw the hardcore porn on the magazine and the lightbulb went on!
I was so tempted to knock on his door and hand him back the magazine, saying,
think you forgot something
but I didn't want to touch it!
Now I want to make a sign for the bathroom saying: Please restrict all non-essential bathroom activities to your bedroom as other people need to use it. Or maybe just: Don't beat off when I need to pee!
At least the handbasin was sparkly clean... and I don't even want to think about why!