Last night I found out my sister had a copy of some photos scanned on her computer. These photos are from around 1999-2000 when my sister and I were producing our show on community television. We needed some publicity shots and so had a friend take these (I've cut my sister and friend out because I didn't think they'd like their mugs plastered all over my blog, especially since they don't know about it).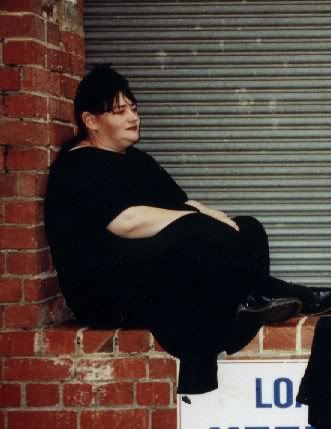 She didn't want to send them to me because she thought it would upset me to see how big I was then and, to be honest, it was quite a shock, but the thing that really struck me was how happy I looked.
My sister said our lives were shiny back then. We had so much confidence and really thought we could do anything we wanted. It was like we were on the verge of something good. About six months after these photos, I sunk into the biggest depression like I was in a giant hole with no way out.
It's funny though to think that I was so much happier then. You'll never hear that in any story in a diet magazine - this is when I was fatter but happier. But the reality is the two things aren't related. There is no magic equation. I've been fat and happy. I've been fat and unhappy. Now I just need to work on been healthy and happy.
Just for comparison, this is me in October 2005: