::30.9.06::
Yeah, I went to Ikea today. Now I have more storage solutions than stuff to store. I've also moved my stuff in the far cheaper storage place (and even got a $47 refund on my storage costs from the old place).

I've got my room organised so it's like two separate spaces - a bedroom space and a living space. I got a happy, red rug for my computer area and fairy lights for my wall unit.

I love rearranging stuff - not only is everything fresh and new, it's also clean and tidy. It's also very energising - you start thinking of new ways to use old spaces and old things.

Another thing that energises me is throwing things out. I've been putting all my old clothes in the back of the car as I no longer need. This week I finally got off my butt and took them to the Vinnies bin. After all the moving, I've got about three more boxes. I think most of these will go on Ebay though.

My next job is to paint my wardrobe. It's a crappy old thing that one of my ex-housemates dumped in the hallway when they moved out. It's practical but ugly so I'm going to paint it white and pink and then decorate it with fake roses and maybe fairy lights.

As for my weight - I'm up again this week. A combination of eating out too much and getting my period. My gym membership is on hold from today so went in and did a huge workout to get the most of my last day.
::29.9.06::
Guess what I bought at the market yesterday? A mango. Woohoo, summer is coming. I can't wait to eat it. Although I did learn a valuable lesson yesterday. Never go to the market after 9 am and never, ever on school holidays!

I've had this week off work and seem to have spent my whole time running around. Yesterday I took Andrew to get running shoes. Now he has to fulfill his part of the bargain and go running with me. I told him I'd take the shoes off him if he doesn't go.

We went to the Nike outlet on Smith St. I can't believe how much cheaper the shoes are there. I so nearly bought myself a pair as well.

Today I'm moving all my stuff out of my very expensive storage place into a cheaper one that's closer to home. I went to the new place yesterday to look around and they are great. They are giving me one month's free storage if I pay for 6 months in advance (ie. I pay for 5 and get 6), plus the 6 month rate is less than 2 months at the other place. That's going to save me a fortune.

I have a big Ikea wall unit that I want to take out of storage and put in my room. I'm going to divide my room up so that I have a bedroom area and a lounge/study area. Yesterday I rearranged all the furniture so I can fit it in. Then I didn't have anywhere really sane to put my wardrobe so I've got it at the end of my bed, kind of blocking my bed off from view. It works well but I'm thinking of hanging some pretty fabric on the back of it cos I don't fancy laying in bed looking at the back of a wardrobe.

At the moment, I'm debating going for a run. I'd like to run but don't want to exhaust myself before having to haul around heavy furniture this afternoon.
::27.9.06::
The other day, some of the girls on one of my forums were talking about RSVP (online dating site) so I decided to update my profile and photo. Since then, I've had a flood of dudes contact me. It's quite freaky. Men are so shallow!

I've been thinking about dating lately - I bitch about being single but rarely do anything about it. Deep down, I'm not sure if I really want to. I need to work out whether it's because I'm happy being single or if I'm just scared and freaked out. Sometimes it's hard to know, and probably it's a combination of both. I really don't like to the think that the reason I'm holding back from something is fear but, at the same time, don't want to spend time persuing a relationship because I "should".

Speaking of guys, I went back to the cafe with the cute waiter... twice... and he hasn't been there. When I went in to pay the money I owed, the guy who served me told me I'd get good karma. I felt like saying - if I had good karma, the cute guy would be working. But of course I didn't.

Eatingwise, things haven't been great. I went out for lunch today (to the cafe without the cute waiter working) and had a pumpkin and fetta burger. When I worked out the calories, it was more than a Big Mac! I don't know how that is possible but it's probably better I over estimate.

Today I went for a 8 km run. It's the first time I've been out for a run since Saturday. I've had really sore legs this week so thought I should pull back a bit.

I've been trying to fit in lots of yoga/body balance/pilates style classes this week before my gym membership ends. I figure if I get the technical side down in class, it makes doing DVDs much easier. The thing is, because I have no flexibility, I think I overstretched. My big problem area is my inner thighs (well hip flexors to be technical) - even crossing my legs is difficult so struggle even doing the easy option of some exercises. I think I've tried to force myself into a posture and put pressure on my knees. I'll have to take it gently from here on in. At least it's not the running causing the pain!

Saturday is my last gym day. I've been thinking of cardio options sans gym. Definitely running but I don't think I can handle running every day. Now I'm going to say something a little crazy here - and if you aren't spurting your coffee over your keyboard when you read this, you either aren't drinking coffee or have no idea how clumsy and un-co I am. I'm thinking of doing an aerobics class. I can go to the gym up the road for $4 a class and I figure I'll be so busy trying to figure out the moves, I won't realise I'm working. Maybe it will shock my body into more weight loss too.

I need to look into my bike buying too. Riding a bike on the road scares me a lot so I think I'll stick to the bike paths for a while.

What other things to people do for cardio? Suggestions most welcome!

Oh yeah, I think I need to buy more plates for my weights already. I knew it wouldn't be long because I was using 10 kg dumbbells for some exercises at the gym and my set is only 22 kgs total.

I went to KMart the other night and they had a 10 kg adjustable set for $30 so I'm thinking of getting that. That way I can make two sets of dumbbells - a lighter one and a heavier one which will save so much mucking around, adding on and taking off plates mid-workout. I'm just worried I'm getting an addiction!
::25.9.06::
I've discovered a new love - peanut butter. I know, where have I been all my life? Under a rock?

I think I grew to hate the stuff from making Andrew peanut butter sandwiches for lunch for years and years. He'd eat nothing else. The smell of peanut butter first thing in the morning really put me off.

Then I bought a jar earlier in the year to put on my banana rolls at work. Except the price of bananas went through the roof so I never made them again.

On Friday I bought all my stuff home from work, it being my last day and all, including my jar of peanut butter from the fridge. I tried peanut butter and (IXL 50% less sugar) jam on a pumpkin roll. OMG! Heaven.

Then I tried peanut butter on apple - I used to make that all the time as a snack for Andrew but never tried it myself.

I've got to the stage where I have to hide the peanut butter - that stuff isn't exactly low in calories and it's so magically delicious. *Sigh!*
::24.9.06::
This weekend has been pretty laid back. I've not felt 100% well so it's good to have a rest. Yesterday I went for a run at Albert Park with my friend Simon. In places the wind was so strong, it felt like running on the treadmill - putting in lots of effort but not getting anywhere.

Today my sister and I have been lazing around watching movies. We got out Eddie and the Cruisers, which used to be my favourite movie. It's still a good film. Then we watched Gallipoli. That film makes me so sad and angry. I remember we had to go see it when I was in high school and all the way back to school on the bus, us girls bawling our eyes out.

So, I've not done a lick of exercise today but I did do some cooking. I made a big pot of mince stuff - was supposed to be a chow mein but ended up quite different, yet delicious. I had no rice so added mexican beans (from a can) and split peas instead. Works for me.

I also made a heap of rissoles to freeze and they didn't work out so well. Now this is just freaky. I'd added everything except the breadcrumbs and, when I went to get the box of breadcrumbs out of the cupboard, they'd disappeared.

A few times I've thought things have gone from my food cupboard but I've not been sure. This time however, it's definitely someone stealing my food. That is so low. I really can't believe one of my housemates is such scum.

I'm pretty sure I know who did it cos my other housemate was in the kitchen with me when I started cooking and he's the kind of guy who would have come straight out and said he'd need to use them for something but it's hard having two housemates cos I feel I can't just come straight out and accuse one of them.

The really freaky thing is that neither of them cook at all. They might go into the kitchen to heat something up or fry up a steak but that's about as culinary as it gets. They have no need for breadcrumbs, so why steal them? I'm starting to think that my housemate has mental problems.

I'm going to make a big sign and put it on the inside of the cupboard telling them that I think they are the lowerst form of life on earth. That way no one will see it but the culprit. I'm also going to make an inventory of everything in the cupboard. That's about all I can do until my friend comes over to help me put in a lock!
::22.9.06::
A real one, not a girlie one and not on a bar but a real pushup on the ground!

I'd done a killer workout at the gym (to work off my fatty breakfast from the market) and finished off with those awful planks when I decided to try a pushup and it worked! I've never done before in my life. I was so excited, I did another two then thought I'd better not get carried away.
::21.9.06::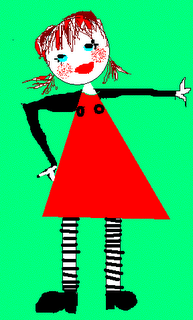 Since I don't have fancy technology like a digital camera, or even a regular camera, I couldn't take a pic of me in my new dress so here is an artist's impression. I wore my stripey stockings today too.
The round circles on my chest are the buttons, not my boobs, just in case you were wondering.
I think it's a pretty accurate picture cos I look like a kid's drawing in it.
I have a funny story but it might be TMI for some people so look away now. Tonight I went for a run and half way I really needed to poo. I thought I could wait but had to slow down to a walk and, about half a km from home, realised it got more urgent. I walked past a pub and could see their toilet sign so thought I'd duck in and use it. The bar looked practically empty anyway.
I walked through the bar, looking all sweatily elegant in my running tights and tee-shirt but the toilet sign lead to a corridor and, at the end of the corridor, was a room filled with dressed up families eating dinner. I had to walk right though the middle of them to get to the ladies! It was rather embarassing.
I also have another funny story but look away if you don't want to hear intimate details of my housemates. The night before last, I was about to go to bed and wanted to use the bathroom. My housemate was in the shower so I waited and waited and waited. I'd almost dozed off when he came out because it took him over half an hour.
I walked into the bathroom and wonder why my housemate had been reading a magazine in the shower - cos I'm pretty naive and unworldy. Then I saw the hardcore porn on the magazine and the lightbulb went on!
I was so tempted to knock on his door and hand him back the magazine, saying,
think you forgot something
but I didn't want to touch it!
Now I want to make a sign for the bathroom saying: Please restrict all non-essential bathroom activities to your bedroom as other people need to use it. Or maybe just: Don't beat off when I need to pee!
At least the handbasin was sparkly clean... and I don't even want to think about why!
::20.9.06::
I went to the doctor tonight. I'm officially 100% no longer on diabetes medication. Ha! Take that, pancreas. I showed you who's boss!

Unofficially, I stopped taking the tablets a couple of months ago. Way before my blood tests. And you know what, the results were even better this time than last time. I so don't need those tablets.

I'm totally cured. Okay, I know you can't cure diabetes but I'm near enough to it. Now I'm going to cure my sister's chronic fatigue with my mad curing skillz.

I want to warn anyone reading this, who is diabetic and on metformin - they never told me that taking metformin and doing lots of exercise can cause hypos (low blood sugar). For ages, I'd leave the gym feeling drained and whoosy. It took a while for me to make the connection. Now I can exercise and feel good and that rocks.

I think I need to go out and buy myself a pressie with the money I'm saving on prescription drugs. Oh except I can't. I did a stupid thing today. At lunchtime I went to the gym then shopping and bought a cute little pinafore dress (well the jury is out on that one - it could make me look like some demented child's tv presenter). My packback was so stuffed full of gym clothes, I put my wallet in the bag with the dress.

When I got back to work, I decided I needed to wear the dress NOW. So I slipped it on and threw the bag on a chair.

Because of my mad walking skillz, I ended up way early for the doctor and went to a cafe for some fruit toast (I've swapped my cupcake obession for fruit toast - but only the good shit with like apricots and other non-raisin fruits). When I went to pay, I realised I'd left my wallet at work. Oops.

Major embarassment but the waiter said he trustedme to bring in the money tomorrow. Then I looked up at him. Holy moly, he was the hottest man I've ever seen in my life. Of course I'm taking the money in tomorrow. I'm going back there every day for the rest of my life!
Ms Briony has challenged me to see who can get to 65 kgs first or maybe I challenged her... Anyway it's on. No more smily face smartie cookies with my morning coffee! Stay tuned for more!
***
"We ask ourselves, Who am I to be brilliant, gorgeous, talented, fabulous?
Actually, who are you not to be?" - Marianne Williamson - from 'A Return to Love'

Have you ever been somewhere, at the gym or walking down the street, and looked in the mirror for your reflection but not recognised yourself? It's happened to me a few times lately, mostly because I'm looking for the fat girl and she aint there.
This morning I walked along, wondering if my top made me look fat and emphasised my belly rolls when I saw my reflection. What hit me was my legs, striding out. It's too easy to zero in on the faults sometimes and not see the good bits.
Which reminds me - I did a body balance class yesterday and the teacher told me to spread my legs further in the moves (she did put it more elegantly) because I have such long legs! Wtf - since when I have I had long legs?
***
Oh yeah, another thing I've been thinking about lately is modesty. I tend to think of myself as a very modest person - I mean modest in the way of not indulging in public nudity, not modest as in hiding my light under a bushell (what the hell is a bushell anyway?).
When I joined the gym, I used to think I was the only chick there that didn't have a really hot body. Every time I used the change rooms, I was surrounded by women who looked like supermodels.
Over time I've realised that isn't the case. It's just that I'm one of the few women without a hot body that doesn't get changed in the shower cubicles.
I don't it. I have no desire to flaunt my body around the place but serious, shower cubicles are damp and small. They would be a hideous place to get changed. You'd feel all icky afterwards, that not-really-dry ickiness you get after you go swimming, and your clothes might fall on the floor and get wet.
Who cares if someone in the change room sees my saggy belly or the pimple on my butt? It's a frigging change room, not a beauty parade.
::18.9.06::




















This is where I invested my birthday cash. Yep, 22 kgs of dumbells. Not just that, I'm hella excited about it. I've had dumbells before but they were those vinyl coated ones in pink and purple and other girlie-girl colours. Now I have kick-arse, hard-core metal ones with adjustable plates (in a pretty blue).
I'm getting quite a nice little home gym happening, with yoga dvds, weights and ... well that's about it. Oh yeah and a skipping rope and fit ball. The next thing I need to buy is a decent pump for the fitball cos it's a bit saggy in the middle (not unlike myself).

For cardio, I'm going to concentrate on running and, hopefully, I'll get a bike soon.

I tried out the dumbells yesterday. I had to change my workout a bit to minimise adjusting the dumbells too often, plus it involves a bit of mental maths but otherwise it rocked.

***
Do you know who rocks? Shauna! What a legend. I was going to demand you go over to her site and read about her swimming adventures but then realised that everyone reads Diet Girl anyway. She makes me almost want to learn to swim all proper (ie. not doggy paddle) but then I remember my head in water fears.
As she says, it's only 14 weeks until Christmas. My new challenge is 65 kilos by Christmas. I can do that. Luckily, I'm so unpopular and anti-social that I have few pre-Christmas events to attend. And, after this past weekend, I'm swearing off the booze for a while.
::17.9.06::
Whoa, I had a big one Friday night. Well all day Friday. We started at the Preston Market at 8 am, buying party favours then wandered around - me in my tiara and my sister in her biker cop helmet. One of our friendly ladies from the gingerbread cookie stall saw us eating our breakfast pizza all dressed up and thought we were year 12 students!

I left work early and went to the gym to prepare my body for the big night ahead - well to burn off the calories I planned to consume. Ten minutes on the cross trainer, spin class, five minutes of rower then a half hour run. My PT trainer set me the challenge of rowing 1000 metres in five minutes and I so nearly did too - only 5 seconds off.

Once I got all de-sweated, I went to the hairdressers and got sexy hair. If you ever need a special do for a night out, I fully recommend Heading Out on Brunswick Street. They do an express curl service - $25 for a quickie style. They also do express updos and straightening as well.

I had some food then come home to get ready. My friends turned up with champers (and gifts - woohoo!). Then we headed to the neighbourhood bar for more drinks and more friends turning up.

Dinner involved more drinks and much debauchery.

After dinner we went into the city and I had many whisky sours - what a great drink, low in calories and high in yum. Still i think I consumed my own body weight in them. We'd planned on karaoke but the karaoke lounge was booked up until midnight so it didn't happen.

There are some photos of my good hair and other adventures I need to upload.

Yesterday we went to Ceres for bunch - they do the best beetroot relish I've ever tasted. Well it's the only beetroot relish I've ever tasted but I bet if I'd tasted many beetroot relishes, it would still be the best.

My sister was down from Sydney so we had drinks last night - champagne cocktails at the Gin Palace. I so love the Gin Palace. I had a very amusing tram ride into the city with my new friends - the drunken 16 year old boys.

This morning I had my fun run - I fell over around the 2 km mark and skinned my hand and knees. The first aid guys came over to render assistance and one of them remembered me from the Mother's Day run. How embarassing! He told me I was troublemaker and put ouchie saline solution on my wounds and then told me to shut up when it said it hurt. But he was cute so I didn't slap him.

The worst bit was that I had to sit there watching everyone run past me. I wasn't running well anyway - too many cocktails and cigarettes this weekend. I did the 8 km in 57 minutes or so but I'm sure I'll be much faster for the next one esp if I don't fall over.

Arrgghh - what a boring post. I'm sure there are many funny stories I could be telling of my adventures but my brain is numb and my injured hand hurts when I type.

I think I'll devote the rest of this week to damage control.
::14.9.06::
I had planned to write a serious post today but I'm in no serious post writing mood. In less than an hour, I'm having lunch with my BFFs (btw Bri, BFF = best friend forever... I wanna know what you were thinking) who have just moved home from overseas.
I have a new sexay hair colour of much bright coppery redness making me the reddest head in my family but the only not natural one. Tomorrow I'm going to my fav hairdresser as they have an express curling service. Woohoo for express curls. I want Xtina hair - like her current hair not that skanky drrrty hair.
I feel so Dolly even writing that. Hey, did you want to win the Dolly cover girl comp when you were a teenager? I so wanted to win but never sent in my photo cos I was too fat and anyway you'd have to be so up yourself to even think of entering and they'd put your pic in the mag and everyone at school would know! I think my life would have been so different if I'd won the Dolly cover girl comp.
Tomorrow night I'm going out for birthday festivities. Woohoo! Then Saturday night I might be going out with my sister but I'm not sure cos she hasn't rang me. Sunday is the Spring into Shape fun run.
Now some photos:
I think these jeans make my legs look v thin. I am eating a cookie in this pic but shhhh... don't tell anyone.
Border's Cafe
Me and the fruit of my loins outside Melbourne Central. I'm thinner than I thought.
I've never had my pic taken with anyone from a band ever before because I'm like totally cool and not at all a fangirl. But there are exceptions to every rule.
::13.9.06::
From my archives (14/9/05):
So my pact with myself is this - when I get to 70 kilograms, I'm packing
away the scales. I'll rely on other means to judge my size - measurements and
clothes and things. At the moment, I want to lose weight and the scales are the
best way to judge that, but when I'm at goal I want my focus to be on toning and
staying healthy, not on "oh my god, I'm 65 kilos and I can't be happy unless I'm
64!" - who needs that shit?

So have I? Are the scales put away? Am I not caring? Hell no! Instead I'm stressing over every calorie and freaking out if I
only
burn off 500 calories a day. I'm more obsessed about my weight now than ever (although not enough to say no to the chocobanana truffle ball with coffee last night).
I've got this too-shiny-to-be-true image of me a year ago in my head and I try to get back to that - that me
never
skipped a workout,
never
eat the wrong thing,
never
ate for the hell of it. I feel I have to be that person.
Sometimes I feel like if I'm not constantly vigilant, I'll balloon up overnight. I feel like I have to get to 65 kgs, then I can stop. I obsess more now than I ever have about my weight. Yet I eat too much then stress about that. Instead of replacing emotional eating with sanity, I've replaced it with dieting obsession.
After a lifetime of being fat, I can be a normal weight in my body but it's much hard to not be fat in my head.
Imagine if you were born in say France but, when you were quite young, you moved to Australia. You might have known French once but you no longer have any lingering trace of the language left. That's like me and eating.
::12.9.06::
Apparently my BFF, Dave, has talents other than being handsome and manly. A whole posse of talents that he's combined to create his own business -
Triffid Communications
. One of the biggest guns in his talent arsenal would have to be his awesome cartooning skills. Check out his site and, if you have need of writing stuff or carttoons or other stuff, tell him I sent you!
::11.9.06::
So Fat Arsed Friday turned into Drink Your Own Body Weight In Booze Friday and I've spend the rest of the weekend in bed recovering. I didn't mean to drink much... I just started and forgot to stop. But I had a ball ... then had pizza and lemon meringue pie to top it all off.

Saturday morning, okay Saturday afternoon, I woke up feeling a bit seedy. I'll be honest, I didn't even feel that sick. I just woke up and wanted to opt out, so I stayed in bed ALL day. Well except for a quick dash to the milk bar for supplies. Cos you have to keep up your energy to lay in bed watching Buffy.

Yesterday I decided I should get up and do stuff. Doing stuff is important. Then I decided to have a nap first. Made it out of bed about 5 in the arvo and did some cooking then more telly - Star Wars marathon on cable.

It was grand. I can take a weekend off and survive! I don't need to be on top things every single day of my life.

The only problem is that next weekend is my birthday and I don't want to make a habit of this sloth thing.
::8.9.06::
Still hovering above 70 kgs - arrrrggghhh! I'll be in the 60s next week for my birthday though and that will rock.
I had something really deep and meaningful to write about but I've forgotten what it is - I'm sure I'll remember eventually. Anyway, today I'm having a rock day - I'm going to see TNT (Tim Rogers and Tex Perkins) tonight - woohoo! But wait, there's more. I went into JB the other night to get their CD and they're doing an instore this arvo so I'm going to see them twice. Plus I'm taking my CD back in to get signed. It's a killer CD so... do yourself a favour...
Tomorrow night will be more rocking - going to see Dave MacCormack :)
Just for a digression into a non-weight related rant: I friggin' hate IRONY! Not real irony but that fake irony, like when people like something daggy but they think they are too cool for school so they say they like it in an ironic way. Own your dagginess, people. Of course, these thoughts hit me as I walked to work this morning, bopping down Brunswick St while listening to Bootylicious on my ipod.
These are some of the bands I've seen live with no hint of irony:
Hanson Southland car park and my bloody son refused to come along so we couldn't pretend we were taking him. But then again, every other parent there had kids nagging to leave...(btw have you seen Zack Hanson lately? He's grown into a hottie, and I feel so dirty saying that).
Presidents of the USA
Kenny and Dolly. I heart Kenny and Dolly.
Bush (for all you youngsters out there, Bush = Gwen Stefani's husband's band). I can't really remember much about them except that when we were walking back to our car, a girl at the back stage door asked the roadie if she could have a water bottle or 'something that Gavin had touched'. We laughed and called her pathetic. She told us nothing that involved Gavin could be pathetic. We might have wet our pants a little at that stage.
Powderfinger - but it was before they become Triple M darlings
Madonna - well saying we saw Madonna is kind of an overstatement. When you are sitting in the second last row of the Southern Stand of the MCG, all you see is cloud cover and some passing mountain goats.
Kylie. I got forced into this one. My friend Simon bought tickets to EVERY Kylie show - she kept announcing more shows and he'd go buy more tix - but for some crazy reason, he thought he couldn't get really good seats unless I went with him. In a moment of drunken weakness, I agreed. We sat in the second row. She changed outfits a lot.
Foreigner - I won tickets. There was only one original member of the band so really they were like a Foreigner tribute band.
That boy band with the dude who was married to Jessica Simpson in it??? When my sister and I produced our community tv show, we got an invitation to a showcase gig for a band - we'd never heard of them but assumed it was some punk band (they had a number in their name). So we went along and it was this boy band. Imagine us and a horde of screaming teens who'd won the radio giveaway! Okay, maybe there is some irony in this one but in an hysterical way.
::6.9.06::
From the end of this month, I've put my gym membership on hold for the rest of the year. I'm not giving up exercise though. I just figure getting into summer, I want to play outside!

The plan is running 4 days a week and popping up to the gym near my house (@ $4 a casual visit) to do weights a couple of times a week. Or maybe investing in some more dumbells and doing weights at home.

I also want to buy a bike, just a cheap secondhand one (I want a purple dragster with a flower basket like I had when I was 10 - that bike ruled).

With the money I save on gym membership, I might even go out and do something new and exciting. I've become bored with what the gym has to offer and I hate having to fit myself around a class schedule.

As to the last entry, thanks for all your comments on my huge gap! Blogger did weird thing with the table and, even with my mad html skillz, I couldn't figure out why.
::5.9.06::
Exercise Goals:
Food goal:
Stay under 1,500 calories a day except for Fat Arsed Fridays!
Eat 100 grams of protein a day
Since protein is my biggest issue, I scientifically researched the grams of protein per calorie in various foods. I used example foods because there is no way, no how I'm going to do this for say every protein powder on the market.



Fish (Blue
Grenadier)


0.206




Chicken


0.204




Tuna (canned in brine)


0.203




Protein Powder (Mushashi)


0.194




Beef


0.15




Bacon


0.14




Tofu (fresh)


0.106




Lentils


0.09




Egg


0.08




Kidney Beans


0.075




Cheese (cheddar & fetta)


0.062




::3.9.06::
My weight is all over the place at the moment because I've got my period. I so don't need this - is there anyway to encourage an early menopause because it's not like I have any desire to be fertile again in my life? Maybe I could get a hysterectomy because my uterus is ever going to be needed I figure getting rid of superfluous body organs is a good way to lose weight.

My computer monitor is acting all weird and flickery. I don't want to be spending money just before my contract ends at work but if I'm going to buy anything, it will be a laptop not a new monitor. I think I'll go check out secondhand laptops this week and see if I can get one cheap. My computer is ancient - I bought it secondhand - and the hard drive is almost full plus a laptop would be so much more convenient. I don't need anything flashy, so long as it works and I can write my stories on it.

It's weird being Father's Day today. We don't celebrate it since my dad died many years ago so you forget, then you see people out having a Father's Day lunch or you read something online and it's oh yeah, people do that stuff.
::2.9.06::
Last night, Anita and I were in one of those moods - hovering halfway between wanting to have crazy adventures and just curling up in bed. We opted for leaving the house but didn't want to do anything too strenuous - her being sick and me feeling a bit woozy from my myotherapy appointment (for those who asked - myotherapy is a treatment that concentrates on the muscles and soft tissues, so my therapist does sport massage but also gives me stretches and exercises and looks at the causes and prevention of problems).

So we drove around a while, fell in love with a boy we saw on a tram and followed it but lost it again. We had options, squillions of options but decided to head to our fave cafe in St Kilda.

We've been going to Monroes for years. When everything else in St Kilda gets glossy and yuppied up, Monroes has stayed the same. So we thought. Last night they were in mid-renovation. Why, people, why? They have plenty of customers and things are fine just as they are. Do we really need another "hip" eatery on Fitzroy St filled with hideous yuppy try hards?

The guy on the cash register told us we could still go there even if it wasn't daggy, but the question is - will we want to?

I used to love St Kilda. I lived there for years and never wanted to move. Now I want to leave after 15 minutes. It's an awful, awful place. Every thing I loved has been torn down or destroyed.

Anyway, I digress. I wanted to talk about the tiramisu we had. I've not eaten tiramisu for ... well at least 18 months. I love tiramisu, and to make it worse, I have a scene in my novel where one of the characters is tempted by tiramisu. I've had to rewrite that scene a hundred times and, every time, I try to convince myself to just do a little research. If I could smell the tiramisu and see it and taste it, I could write so much better. But I've resisted.

Last night we decided to go for it. The trouble is, we discovered, we didn't really want tiramisu. Well not just any old tiramisu. We wanted the tiramisu from the cafe next door to the shop where Anita used to work. That cafe closed down about 5 years ago. That tiramisu no longer exists.

Sure last night's tiramisu was good - the creamy part especially, and it was fresh, freshness counts for a lot - but it wasn't great. It lacked something - the melange of cake and espresso and mascapone and liqueur just didn't tie together exactly right. Tiramisu is a balancing act, the whole has to be greater than its parts.

I should just accept that the only true perfection now lives in my memory. I could go on a quest, sampling tiramisu all over the city, but that would only lead to a massive weight gain and disappointment. I'd come away feeling empty and let down and cheap. If I can't have the best, I don't want it. Maybe I'll never eat tiramisu again.

PS. I forgot to mention this about my trip to St Kilda: you know your skirt is short and slutty when the street hookers all have more coverage than you do!
::1.9.06::
I thought I'd let you know about a few crap products I've bought lately so you don't make the same stupid mistakes as me.

Firstly microwave rice. I've not eaten rice in ages because who can be stuffed cooking a small serve? Not me, that's for sure. So I saw this microwave rice in the supermarket and it looked too easy. But no... normally I'm the queen of checking labels but, for once, I didn't. I dunno, maybe I was tired and emotional... anyway a few days later, I cooked the microwave rice and the frigging calories - close to 300 per serve. So I decided to have a tiny portion. Then I rechecked the label and the teensy packet contained 2 serves. That's like 600 calories in a small packet of microwave rice! If I'm going to eat 600 calories, it isn't going to be rice - the most boring food known to man. The stuff is chockers full of oil and shit. Take my advice - don't buy it.

Then I got a Weight Watchers Cajun Chicken pizza. Worst. Pizza. Ever. And nearly 500 calories. You know there are a lot less calories in 2 slices of REAL pizza. And real pizza tastes good, not like soggy arse. The ultimate insult is that you can get 2 slices of very good pizza at the market for $2.50 while WW pizza is like $6.

Lastly, this isn't a product but it pisses me off. When I started doing spin classes, we had those bikes with big turny knobs. I liked those - you got to turn the resistance heaps and it felt like you'd achieved something. At my gym now, we have bikes with levers that you push millimetres to up the resistance - grrrr! The worst of it is I've been on a couple of bikes lately where there is a fraction of a millimetre between NO resistance and riding up a cliff face. It's as frustrating as hell because you spend the entire class making microadjustments to the resistence. Does anyone else have this problem? I need to find a good bike and stick to it, I think.

That's my bitch for the day. Dietwise, I'm wavering between 70 - 71 kg at the moment. It's 2 weeks to my birthday and I want to be under 70. For two weeks, I'm going to stop eating shite and - I was going to say do more exercise but I'm doing enough of that. I've been walking to work every morning then either going to the gym or walking home and going for a run every night. It's the food I need to watch - except today. I'm declaring Fridays: Fat Arsed Fridays, and making them a free day. The rest of the week will be good though.