::31.1.06::
If you missed my other post about it, the
Makeover Expo
is on this weekend. I'm going along on Sunday with
Jadey
and
Beck
. Let me know if you wanna come along. And, since I have to finish off my camera, I think I should take before and after shoots - see if we come out all purty and madeover.
I'm a big fan of comfortable knickers - if I want to floss my teeth, I'll do it from the right end...lol - but they sure can create problems when you lose weight. See as the knickers get looser they sit higher, inching up to your underarms, but your other clothes get looser and the waist gets lower. That leaves a very unattractive gap of floral Bonds! Time to go shopping, I think.
I realised last night that the
Super Sunset fun runs
start on Wednesday. I especially want to do the first one because you run through the zoo. Pity the site is so lacking in information about parking/public transport. Still, my friend did this run last year and he said it was just amazing running past the girafes and other animals. If I had realised this, I'd have not worn myself out yesterday!
I also want to do the
Go The Tan
(thanks Lucinda) on the weekend. On top of all that, I'm working from Wednesday for 1-2 weeks. It's going to be a busy week.
::30.1.06::
Q. Which uber running legend, ran 3 km on the treadmill at the gym today without stopping?
A. You guessed it - ME! Woohoo. I have been doing 5 min intervals (ala
Sharon
) and decided to try for 7 minutes instead. Got to 7 minutes and kept going and going....
Oh yeah, and it will take me a while to post the photos cos I had an old skool camera so I need to get stuff developed!!!
I meant to sleep in yesterday so I was nicely rested but it wasn't to be - I got woken by an almighty crash, like someone was kicking in my bedroom window. Among the screaming and cussing (by me) I realised that my wooden venitian blinds had fallen down. Seems the stupid owners didn't put the brackets up properly!
After my shower, I went to the supermarket and got some supplies (including drawing pins so I could pin a sheet up at the window cos no way am I touching those blinds myself - the owners can deal with all that). I was going to get a couple of protein bars but remembered the last time I had one it was disgusting so I thought maybe museli bars would be good but I don't really like them either so I got some LCMs - not so healthy but damn yum. I also got a couple of huge lasagnes reduced to $1.99 each. That's damn good. Since the use by date is today, I'm going to cut it up into calorie-friendly portions and freeze them individually and give the rest to Andy. I mean, who can turn up $1.99 lasagne?
Got back home and got ready - I got the cutest t-shirt from a shop in the city called
Route 66
that has like 50's rockabilly clothes. Will definitely be checking them out again because they had the loveliest angora cardigans. And some great dresses. And cute skirts...
Anyway, my friend Sugar Lips turned up and off we went. I got before photos so I hope they come out okay. We had decided to drive because the thought of public transport was too much to deal with, but wasn't sure what the parking would be like. Ended up we found an all day park as easy as easy, but it wasn't as close to the grounds as we thought so we had to walk and walk and then walk almost all the way around the outside of the grounds to find the entrance. At least I got my exercise for the day.
We could hear some godawful band playing as waited to get in. I was like, must find out who this band is so I
never
see them again. It ended up being Magic Dirt. I kinda like Magic Dirt - I've seen them do live performance that have been as good as any band I've seen but I've also seen them do some shockers.
The first band on our must see list was
Sleater Kinney
. I didn't know much about them but have heard good things about them. They were great - very cool rock chicks. I think I will have to educate myself more. They were playing in the RRR tent which was nicely shaded and breezy - far better than the hot outside.
When they finished, we didn't have anyone we wanted to see for a while so we walked around snarling at the kiddies. Damn kiddies - the big fashion of the day was t-shirts of bands that broke up before you were born - the Ramones being faves. Cowboy hats were big too. I'd been going to wear mine but it has been in the back of my car for months and got squished to death. I'm glad I didn't wear it after seeing every other person there in one.
We got food - I couldn't resist the junk food vans! I had a yummo kranksy with onions and cheese. Damn fine it was too. I also got an icecream. I think that is pretty good going compared to what I could have had. Well I guess you can't eat too much at those prices.
Next up was
Henry Rollins
. We listened to some generic rock band while we waited. I'm sure that stuff sounds okay if you are 16 years old and don't realise that a million bands have already done the same thing...
Rollins was fantastic - he's a great storyteller. We were in the second row so I got a couple of photos. One or two because ... I need to have a bit of a rant here... what is with people taking photos? Not just at the BDO, but a few times when I've seen bands lately, half the crowd stands there taking photos on their cameras or their digital phones. Sure it's nice to have a pic or two, but these people spend the whole set taking photos. It reminds me of last time I went overseas - people seem to spend more time recording things than actually experiencing them. Enough with the photos.
We stuck around for the
Beasts of Bourbon
who bought out all the old farts in the crowd. Damn they rock. I've never seen them play live before and I was very impressed. They started the set with Chase the Dragon then, about two songs in, some dude near us started yelling for Chase the Dragon - I think he won Tool o' the Day!
After a quick toilet and water bottle refill break, we headed to the main stage for
The Stooges
. The line to get into the D barrier wasn't so long, so we thought we'd chance it. Except the line didn't move and people kept pushing in... when we got there, the line was 2-3 people wide. It ended up being about 20 people wide. I really thought there was going to be a punch up but I restrained myself. I hate damn people who push in and thought it sucked that the place was crawling with security everywhere else but there. Adding to the pain, we had to listen to Franz Ferdinand - my god they were awful.
The Stooges started so we gave the line a miss and joined the general crowd. Damn they were good. Beyond words. Enough to make you forget your aching feet and tired limbs. For the first half of the show, we had this insane girl behind us - squealing and dancing around like something possessed. I've been around some annoying people at festivals in my time but she far out did any of them. I kept moving to get away from her but she seemed to move with me. Arrghh! Eventually she pushed up to the front, thank goodness.
Last was
The White Stripes
. Now I've loved the Stripes for many years but seriously, having them on after the Stooges was bad idea. And they were crap. I was really umimpressed with them. To make it worse, Sugar Lips isn't a fan so I felt like I had to justify wanting to sit around to see them and was having trouble finding a reason.
So that was my day. I think I survived okay - well it was the first time I've got home from a BDO without feeling absolutely shattered which is a good sign. The feet and legs are a bit sore (but then the legs were sore before I started, after my gym workout on Saturday).
::29.1.06::
I realised something this morning - I know longer question or even think about if I'm going to succeed at weight loss. In the beginning, I used to think about that a lot: Can I do this? Can I keep doing this? Now I worry about the how and when, the if never occurs to me.

I guess that's what they mean by a lifestyle change. It becomes like other aspects of life - working or being a parent or driving a car even. Sure you don't also do the right thing or give 100%, and some times you are disappointed at your own efforts, but you just keep on doing it regardless.

I'm off to the Big Day Out today. I'll post some pics if things work out. I've got a disposable camera that's been sitting around for ages so I figure today is as good as any for finishing it off. Must remember to take some pics before I go because apparently the grounds are a mud bath after all the rain we've had here!
::28.1.06::
I went to the gym yesterday afternoon and, of course, as soon as I left the house, the cool change came through - by "cool change", I mean it was absolutely pissing down. It eased off for a while but then started bucketing down again when I got the gym. There is about a metre of open area near the gym and I decided huddle under the awning of the cafe opposite rather than risk getting wet (is that confusing? my gym is in the QV building in Melbourne so there are lots of open air cafes with big awnings around it).
The guys at the front desk kept opening the door and yelling out for me to run but I was wearing thongs. Wet weather + running + thongs = disaster - if you ask me.
I had a great workout doing walk/run intervals on the treadmill then I went to Ab Blast class. I think I need this class because I will do anything to talk myself out of ab work. It's boring and nasty and you don't even see the results until you strip off a shitload of body fat.
After about 2 minutes in that class, I'm sure the other girls were calling me Oinky McSweatsalot in their heads. I'd done my cooldown but was still perspiring heavily. I was even having trouble doing planks and things because my sweaty arms were slipping around on the mat. Urgh!
Now that would have been fine if I'd been left alone to wallow in my own sweat, but no. We had to do a circuit. I bet those girls were looking at my mat and shuddering. I wanted to apologise but how do you say 'sorry for making my mat all sweaty'... well I guess you could say it like that. Instead I got my towel and wiped it down. I would have swapped it for another one but I'd been kinda disruptive anyway, coming in late and being disorganised so I thought the instructor would yell at me over her Madonna mic.
It mustn't have been too bad in the end because one of the girls came over to chat with me afterwards. She told me I'd be sore today but ha, I'm not. Maybe it's because I did everything at the easiest level. Next time I'll try harder.
So today, I'm tossing up whether to go shoping or to stay home and do some work. Shopping looks good.
Wow, there are a lot of food/recipes blogs popping up at the moment. Yum. This is a short list of my faves:
Cooking with Ginger
Skinny Latte's Cookbook
The Points Cafe
Culinary Escapades
::27.1.06::
The result of today's weigh in is 78.4. That's a nice round kilo down from last week - woohoo! I wasn't expecting to lose so much this week but, hey, I aint complaining. I've had a few big lunches this week - I seem to be starving at lunch time - so instead of fighting it, I figure I might start making lunch my main meal of the day for a while.
***
Men, can't live with 'em, can shoot 'em! Especially my housemates (well especially the shooting part - although it is tempting at times) I had to confront the males in my household yesterday. Seems one of the guys in this house is reticent to flush the toilet and, since I'm usually the first one to use the bathroom of a morning, I'm often greeted by the smell of stale urine. It's not the best start to the day - trust me.
Last night all three guys were in the lounge watching cricket. It was the moment to speak. I asked, really nicely, if they could make sure they flush.
Afterwards, I really felt bad. I hate doing stuff like that so much. I like to think of myself as being very upfront but, when it comes to the crunch, I'm so not. I worried that they would think I was being a bitch, even though I said it nicely without complaining or being bitchy. I shouldn't worry like that. I should be able to have my say. It wasn't even like it was really a confrontation - just me saying my piece. Maybe if I do it more often, it will get easier.
Yesterday was really a day for thinking men suck.
Most of the day was fine - I went to the Fitness First branch in St Kilda and did a workout (not so good because they don't have air con) then finished off with a swim. After that, I visited friends and had lunch (too much dip... but it was yum). I started driving home and got about a block and was sweltering so I called in at the Jam Factory until it cooled off.
I think half of Melbourne had the same idea - it was packed. I went into Borders and got some books and magazines then found a seat in the overcrowded cafe to have my coffee.
A little while later, a woman came over and asked if she could squeeze in at the table. Fine. Then her partner and baby followed behind - damn sneaky if you ask me. So the four of us (there was already a guy sitting there) were crowded around a tiny table overflowing with books. The woman read for a while then the baby woke up and she tried to make up the baby's bottle - balancing everything precariously around the edges of the table. Another table became free and she asked her partner if he wanted to move and he told her NO. He was comfortable.
After they left, another group of people sat down at the table - they got their coffees and the girl went to add sugar until her bf told her she couldn't - she'd had enough calories already!
Now, I know these are just tiny glimpses into other people's lives but it amazed me that these woman did as they were told. There was no yelling, no abuse, no physical violence. I don't get that at all. Maybe that's why I'm single, because no dude would ever tell me what to do like that. But if that was going to be the alternative, I'd rather stay single my whole life.
ps. it was quite the day for incidental exercise. Firstly my friend and I walked to Chapel Street to get salad rolls for lunch but all the bakeries were shut so we walked for blocks and blocks (in the heat). Then the lift in the Jam Factory car park was broken and I was parked on the 4th floor! Arrrgh... but I ran up the 4 flights without even losing my breath!
::26.1.06::
If you read this, I just want to let you know - you've done something to your blog so only "team members" can comment! I was trying to tell you how to fix the date header problem...
Barbara suggested Atkins or slim right protein bars as a good snack to take along to the Big Day Out. I'm also thinking non-squishy fruit like a couple of apples. Any other suggestions so I avoid the chip vans?
Arrrghh! After yesterday's post, things got worse. I went to the gym to do my run/walk intervals and couldn't run. I pushed myself as much as I could but was really having trouble.

After that, I did my upper body workout and that went much better. I have to do push ups. I've never really done push ups before. Sure I did them in pump class but I cheated! I did those girlie push ups on my knees and used my legs more than my upper body. But my personal trainer made me do them properly last week. Well, he had me doing them on a bar on one of those weight lifting machines, not on the ground so they are modified but you can't cheat. It's amazing when you can feel that it's the "right" muscles lifting you.

I'd been hungry before I got to the gym and my workout took longer than I expected so I had to rush off to meet the girl who bought my BDO ticket off ebay. I got the cash off her and had planned to go shopping but first I needed to eat. I was famished and my favourite city eatery is that side of town - a sushi train place - so headed there. But alas, it's closed down and another Japanese place has taken over. By then, I could have eaten a nun's bum through a convent railing, so I went in anyway.

I needed real food, not just sushi rolls so got a miso beef with stir fry vegies and rice. Then I forced myself to eat slowly, not an easy thing for me to do when I'm that hungry.

Afterwards, I felt so tired. I couldn't shop. I just wanted to get home. So I came home and slept for hours. I really think I need to see the doctor about this - it's one thing sleeping during the day if you don't sleep enough at night but having a 2-3 hour nap during the day and still sleeping normally at night is just abnormal (well for me anyway).

I ended up having a late one last night though - my pal, Sugar Lips, can over and we headed to St Kilda - the Espy was having an Australia Eve thing with heaps of bands but it was crowded and hot so we grabbed a beer each from the bottle shop and walked along the pier for a while. Got back in time to see the Spazzys then headed home.

I hate the Espy. Seriously. I forget how much I hate that place and think I like it but really and honestly, it's crap. Last night most of the crowd were blonde and shiny and looked like they should have been at some dance club not at a pub watching bands.

So anyway, I am feeling perkier today. If I decide to brave the weather, I might go to the gym and do my legs workout. If not, I'll do a modified version at home. I'd like to go swimming if I could think of anywhere that isn't overcrowded.
::25.1.06::
I think I need to make some changes to my workout routine. At the moment, I'm doing 6-7 pretty full on cardio workouts a week and it's getting too much. Last night I missed my Spin class - I used to love doing Spin and now I just can't think of anything worse - and I'm tired all the time. Sometimes I can't get through the day without a nap.
So the new plan is to do 3 cardio workouts at the gym a week - at the moment I want to stick to my walk/run intervals because that's what I am really enjoying, and then on the other 2 week days doing some light exercise - walking or swimming plus using those days to do my lower body weight sessions (I figure I'll be able to do this much better without having exhausted my legs with cardio first).
On the weekends, I definitely want to do a longer walk/run outside if the weather is good.
Other than that, I want to add in a pilates or body balance class.
It worries me that I'm cutting back the exercise but I really think I can't sustain the level I'm doing at the moment.
One of my motivations has been that I have the time to do a lot of gym work now but I have no idea what things will be like in the future - once I start working again plus possible start studying. Making the most of my time has really been what's pushing me.
Another worry is just having no routine - not knowing what I'll be doing as far as work goes. I'm sure something will come up soon but I just don't know what or when.
But there is no point in exhausting myself. I can't work any harder so maybe I should just work smarter. I think I need to go to the doctor and see if there is anything medical that is causing the tiredness too. Maybe I'm lacking in something. I am also thinking of seeing a dietican too - there is a local diabetes clinic that has all that thing (note to self: wasn't diabetes check ups part of new years resolutions). I am worried that I don't eat enough protein - I should be eating about 100 grams a day but even with huge efforts I only seem to get to about 60 grams.
***
Yesterday I did a stupid thing - I had some rice paper rolls for lunch but was still hungry so later in the afternoon I went down to a local cafe and got some scrambled eggs. I forget that other people actually butter bread - I haven't done that for so long - and they came out with two huge slices of toast lathered with butter. What could I do? I was starving and, since I hadn't asked for unbuttered toast, felt like I couldn't send it back. I did think of just eating one slice but it was so good - fluffy clouds of white bread with creamy butter.
Anyway, afterward I was so full. Like stuffed. I couldn't think about food for the rest of the day.
What do you do - on the one hand dieting wisdom says to never skip a meal and on the other to never eat when you aren't hungry? I guess not stuffing yourself in the first place could work but I enjoyed it so much, it was worth it.
***
I've been thinking a lot about body image and my feelings toward myself lately. One of my worst habits is looking in the mirror and zeroing in on my worst bits - my flabby belly mostly. I end up just seeing myself as belly rather than the whole me.
It's weird the way we get pissed off when guys objectify women - talking about them as just a pair of boobs or a great arse - yet we do that to ourselves in a different way, only seeing our own (and other women's) bad bits. At least the guys focus on the assets!
So I'm trying to see the whole me - the good and bad - when I look at myself. You know, I have great legs. And my waist is getting smaller. And now that it's merging from the double chins, my real chin is rather pointy. And even the flabby belly is getting smaller.
::24.1.06::
I'm not going to the Big Day Out on my own - I'm not nearly that brave - but with my dear friend, Sugar Lips :)

I didn't get the Converse high tops - I tried them on but I expected them to be more *bouncy*. I have some shoes at home that I'll wear if nothing screams "buy me" in the next few days. At least it will be a cheaper option and with the $50+ I save, I might be able to buy one (watered down) beer on the day.
On Sunday night I put a rinse through my hair - a coppery red - to perk the colour up a bit. Then yesterday I went to the gym and, as usual, got a towel hire. I hate having to drag a towel along as well as everything else.

So, after half hour or so of walk/run on the treadmill, I was sweating like a pig. I went to do some ab work on the mats and realised my once-white towel was now orange streaked. Yikes! Damn hair dye.

Still I'm sure they have had much worse. I remember one time I was on holidays in Bali with a friend and she dragged me along to the hotel gym. After a heavy workout (by her, not me), the gym towel had more fake tan on it than she did.

Hopefully the colour is set now and won't be dripping off me any more.

***

Sunday is the Big Day Out. My original plan was to get to 75 kg by then but the chances of dropping 4 kilograms by Sunday are pretty remote, unless I get a body part amputated.

I had a spare ticket that I'd bought for my sister and listed it on ebay. No one bid on it for ages then last night it raced up to $97 at the last minute. Woohoo! So I'm going to invest my money (when I get it) on clothes for the day.

When I was growing up, my Mum always had a horror of being "mutton dressed as lamb" - luckily I've not inherited that fear. Far from it. I'd much rather be mutton dressed as lamb than lamb dressed as mutton. I figure with my youthful looks, I can get away with it - and bugger what anyone else thinks if I can't. No way am I dressing like an old lady.

It surprises me sometimes when I find out the age of people I work with - often they are younger than me but dress like they have just given up. They dress for "comfort" - how anyone can be comfortable in dowdy clothes is beyond me. Even my friends in their late 20s dress far more conservatively than I do.

So, for the BDO, I'm thinking of getting some Converse high tops - purple ones if they have them at the outlet shop (no way am I paying retail when the outlet shop is 5 minutes down the street) and teaming them with some bright coloured fishnets. I figure the shoes will be handy for when I want to walk places without wearing big, heavy runners. I'm also wearing my tarty denim skirt and probably a t-shirt. I'd like to wear a singlet top but don't think my arms look good in one. Maybe I'll wear one with my crochet cardi - if it gets too hot, I'm not going to care about the flabbiness of my arms.

I think I mentioned this before but I offered Andrew the spare ticket. He refused it because none of his friends are going and no way would he go with his mum! I punched him because I'm not like other mums - I'm much cooler - but I'm glad he refused in a way. I think going to the Big Day Out together would just be a bit too Gilmore Girls for me.

Now I'm just praying it won't be over 40 on Sunday.
::23.1.06::
I've been lacking motivation for a while, I just don't have the losing weight fire I used to have. In the past 6 weeks, I've only lost 2.5 kgs! I feel like I've been hovering around the low 80s/high 70s forever.

Yesterday, that little devil voice suggested that maybe I just stop for a while. Not to give up but to just try maintaining. After all, I've come a long way and a break would give me time to adjust.

But really, I don't want to. I'm too goal focussed and my intention has always been to get to 70 kgs, even when I believed that was impossible. Lately I've been wondering if maybe that isn't enough but for now, I've got to go the distance. When I get within the normal BMI range, I can take a break.

One of the things that bugs me is the way my weight is distributed - I wish it would sort itself out. I wish my body was like a feather doona - you know how when all the feathers clump down the bottom, you grab it and shake it up so that they distribute evenly. If I could do that, I could move the fat from my belly to other parts of my body where I need some fatty covering. Weirdly enough, I seem to have lost weight off the soles of my feet!

This week, I want to get back to basics - tracking everything, cutting out all the little treats, keeping up my water intake. I haven't been to gym all weekend - no way was I going anywhere in that heat - and the two days off has done me good. I'll be back into it today.

Maybe too, I have to accept that I'm not going to lose so fast as I get closer to my goal.
::22.1.06::
Okay, the gory details. He turned up wearing a black shirt (buttoned up to the neck) tucked into black pants. The worst part was, because he was kinda pudgy around the middle, he had the belt buckled really tight to create a "waist". Plus he had thinning hair on top with a really long ponytail - very Miami Vice. He was also sweating a lot when he turned up - which I could understand, it being a hot night - but if it were me, I'd have excused myself and went to the bathroom and cleaned up. Definitely in need of a queer eye makeover.

There were a few things that disturbed me through the night too. It's funny, at the time I was prepared to overlook them, putting them down to first date nerves or something, but on reflection I think they could be major signposts that he was a complete tool. Firstly, he talked just a little too much about other woman he'd slept with or who want to sleep with him. Yeah, really tacky.

Then he seemed awfully impressed with himself because he was doing post grad study. I think maybe I didn't show enough interest in his thesis for his liking, but there was a good reason for that. I didn't care. Well not enough to discuss it for hours. He also was proud of the fact that he was 'an intellectual snob' - in fact he reminded me a bit of Frasier (which a bit of trying too hard to be 'arty' thrown in).

The other thing that I let pass at the time, but I think should have been a big red flag was that he said he smokes pot every day. I don't have an issue with people smoking pot, but every day? That's a worry. It's like if someone said they had to drink booze everyday -- that's getting to be a problem.

Finally, with the email: I sent him an email the next day saying I'd had a fun time and was keen to see him again then (because he'd said he was going interstate for the weekend) told him to have a good time while he was away. His reply: "will do". How offensive is that?

So I think it's no great loss. Time to move onto greener, and less self-important, pastures.

On the dieting front, I think I have to be a bit less social. I've gone out and had 2-3 glasses of wine every night for the past three nights. That's a lot of drinking for me. And it's so damn hot, I haven't wanted to go to the gym. At least it's too hot to eat much though.
::20.1.06::
I sent an email to my date from last night and I'd like to see him again ... got a very lukewarm response back so I guess that is that. Especially since all his previous emails have been quite effusive.

Between that and not losing weight today and this damn heat, I'm feeling rather lacklustre.

It bugs me when I don't lose and I'm not being that bad. Sometimes I get that bad voice saying well I might as well go on a killer binge if I'm going to gain anyway. I went to the market with Andrew this morning and did get some chocolate fruit and nut mix then I looked at the cakes and bakery treats and the voice was saying - go on, have some, this week is write off anyway and I can make it up next week. But I resisted. Well actually, I did think 'why not?' then looked at the cakes and bakery treats and decided they were so crash hot anyway. I did overindulge ... in plums and strawberries and apricots and nectarines. How much am I loving apricots at the moment? Damn they are good.

Oh yeah, funny thing happened yesterday. I was on my way to the gym and for a while I've wanted new workout clothes. I have two pairs of trackies but one pair looks awful - they are thin and clingy - and the other pair is thick and fleecy and they get very uncomfortable when I sweat. So on the way I went into K-Mart. I looked at the trackies then at the shorts. I've seen some of the people at the gym in shorts with leggings underneath so I thought maybe I could do that.

But I wandered around for ages thinking I can't wear that look - me in shorts? What am I thinking. The inner voices battled in my head - the "Mum" voice saying I'd look stupid and the other voice saying it would be a sensible option esp for Spin class. Then I held the shorts up against me at the mirror to see how they would look.

I had to laugh when I realised what I was wearing - a short denim skirt with 3/4 tights! The skirt I had on was shorter than the shorts I was too scared to buy. So yeah, I bought the outfit.

As for the date, I'm disappointed but not devastated. I think it can be hard in when things like that happen to not see it as MY failure - that I did something wrong, was too much of something or didn't do enough of something else or TOO FAT. I've done that in the past and it's just stupid obsessing, so that in the end it doesn't become about the guy but some kind of crazy test of whether I'm acceptable or not. But screw that. I went out, I was my most charming and honest self... I did end up showing a little cleavage too... any loss is his. And he was wearing a most daggy outfit.
Arrrgghhh - up 200 grams this week! Not that it's unexpected, I've not been tracking properly and I've been snacking like a crazy snacking machine. Nothing really insanely bad for me, just constant eating. Oh yeah, and the free supply of Kingston biscuits in the kitchen when I was working! Damn it. It shits me when I'm borderline bad and put on weight - I feel like I may as well have pigged out on chocolate and tiramisu and got the bang for my fuck!
So, the date last night went okay. After the initial awkwardness, the conversation didn't stop. Drinks turned to something to eat to more drinks.... but there was no kiss goodnight (there was a hug). And he did
say
we should do it again. Oh and he didn't email me afterwards. I guess it's a case of seeing how things pan out.
The plan for this week is -
drink more water since I've been awful slack about this
get rid of all food that is easy to snack on - I've had a lot of food in the house that isn't really "bad" ... Saladas and dips and things ... but is too easy to keep picking at. When I have food to pick at, I find it hard to curb the constant snacking so I need to stop.
more fruit for snacks and more salads
I think that should do it.
::19.1.06::
Even though I'm trying to NOT spend money, I popped into Jeans West today. And boy am I glad I did. They have an extra 25% off all their reduced stock (am I sounding like an infomercial or what?). I got a few things to try on and then the girl suggested a few other things. She showed me a black top that was nice but they didn't have an XL or a L, only an M. The girl looked at me and told me I should try it anyway. (I almost kissed her) So I tried it, and it fitted! Woohoo! It's on the tight side but not unwearably so. I ended up getting that and a purple singlet for $13 - bargain city.
::17.1.06::
The divine
Dee
has tagged me, so I must obey:
1. What were you doing 10 years ago?
I find it so hard to pinpoint what I was doing at specific time (that's why I need a blog). I'm pretty sure that is when I was in the midst of my party girl/fag hag phase and since Andrew would have been staying with Mum for the school hols, I can imagine it would have been all systems go on the party front. Lots of clubbing and $1 pot nights on Mondays at the Prince of Wales. Oh boy, it makes me tired to think about it all now.
I was living in my flat in St Kilda (the place that still feels like HOME to me) and was working as trainee programmer while studying part time.
2. What were you doing a year ago?
My pre-diet phase - I was being to face up to the fact that I
had
to do something about my lifestyle or end up seriously ill. My diabetes was out of control and I felt like shite.
A year ago, I was working in the shitty temp that I got sacked from (I've mentioned this before) and going insane because I had nothing to do. I was incredibly depressed and felt like my life was falling apart.
3. Five snacks I enjoy:
Jarlsberg cheese (I had some tonight and reaffirmed my love)
Summer fruits - apricots, nectarines, strawberries... bring it on
Banana bread from Borders cafe - my biggest weakness although I ordered some on the weekend and they have me two big pieces and I think that was my undoing. I feel like I have truly satiated the urge.
Sushi - it's cheap, filling, convenient (esp for after gym munchies) and delicious. And best when served via a locomotive device)
Chai - so it's a drink not a snack but I'm an addict. I have about 8 different forms of chai just at home.
4. Five songs to which I know all the lyrics:
There are a million of these. I am the uber-car singer. I'm not ashamed to admit to these (although I should be):
Stop in the Name of Love - The Supremes
Forever Now - Cold Chisel
Fell In Love With A Girl - The White Stripes (and I can sing along too, no easy task)
Shivers - Boys Next Door
I want to be evil - Eartha Kitt (but only when I'm drunk)
5. Five things I would do if I were a millionaire:
Plastic surgery all the way, baby. A full body lift and butt implants and a boob job. But they aint touching my face - that's freaky.
Travel of course
Buy an nice little low maintenance flat
Hire a hit man to kill my enemies
Hmmm... can't think of anything else. Maybe throw a party and invite all my fave bloggers (with airfares thrown in)
6. Five Bad Habits
Swearing - I'm a complete potty mouth
Lateness
Forgetting my mobile (which infuriates my friends when combined with the lateness)
Internet browsing excesses
Eating (of course)
7. Five Things I Enjoy Doing
Internet browsing
Eating, which really shouldn't be a hobby
Gym ... sometimes
Going to see really good bands, the kind that make you forget you've been standing on your feet waiting for hours to see them.
Driving to Torquay with my sister with us belting out songs at the top of our lungs
8. 5 Things I Would Never Wear (or buy or get)
Anything "boho"
Applique windcheaters esp ones with furry koalas on them
G Strings
A dark tan - if I colour at all, I do it lightly
Anything from Kookai (I hate those girls with their Kookai bags so much)
9. Five favourite toys:
Ipod
my fat rolls - they have to come in handy for something
tweezers - I love plucking stuff, sick I know
my computer
That's it, I don't have many toys.
This part I'm not sure I get. But I'm game. Remove the top person from the list. Bump everyone up a spot, and put yourself at the bottom.
elephants gestation
So its come down to this
ukraine adventure
145
Reflected Thoughts
And now to tag others... sorry if you've already done it...
And, while I'm at it, I saw this on another blog and thought it was interesting:
5 Weird Things About Me:
I always try to pay for things with the exact money. Even if it inconveniences myself and those around me. I don't know why I do it but it always makes me happy if I have the right money.
I'm hopeless with remembering birthdays - I even forget the exact date of my son's birthday half the time (although I never forget to buy him presents, just put the wrong date on forms etc).
I taught myself to write with my left hand one time. I was working in a call centre and was bored shitless and it was something to fill up the time.
I find it hard to do yoga or anything like that - not (just) because I'm inflexible but because I have weird jutting out bones esp in my knees and it's painful to kneel.
I've never been to a hen's night and only been to two weddings (one of those I was only there to video). Few of my friends and family marry and with the others, I seem to be the "single" friend who gets dumped when they start a relationship. But that will change soon - I'm planning a hen's night for my friend so any suggestions are appreciated since she's nixed the stripper! Do you take presents for a hen's night? What are some good "surprises" for the night?
::16.1.06::
I'm feeling much better now - thanks for all the lovely comments :) It's like that hard ball of yuckiness has left my stomach. I think a good night's sleep tonight will make me feel even better. I don't have to start work until 10 am tomorrow (I'm only doing a half day) so I think I might go in early and do my gym stuff before work then I'll be free to head to Vic Market after work without having to drag my vegies to the gym with me. There is something grotty about taking food to the gym.

It's been a fun job albeit short. I'm in West Melbourne which is a nice area and found a little cafe near work that has free fruit! How good is that! They have lovely big communal tables with lots of glossy mags to read too.

Anyway, now the clouds are lifting, I have another thing to stress about...lol. For the past few years I've been on an internet dating site but haven't been really actively pursuing anything like that for ages. Occasionally I get a response but most of the guys are semi-literate or recently released crims or sleaze bags. I'm sure they respond to every female on the site and don't even read their profiles. So I've mostly ignored them.

Well last week I got a response from a guy who sounded nice. We have a few things in common anyway. So we've emailed a couple of times and are meeting for coffee soon. I haven't even seen a photo of him yet but I figure it's just a coffee.

To be honest, I'm not that stressed about it. I used to meet up with lots of guys from online a few years ago (and boy, do I have some stories I could tell about those experiences) and I'm quite expert at dealing with the situation.

I was wondering what I should wear. My dating outfits used to be based around one principle - show lots of cleavage and the guy mightn't notice how fat I am! Now I have more options. I actually had a moment today when I wondering what was the best "look" to impress him then I realised - screw that. I'll go along as ME and he'll either like me or he won't. It's as simple as that. I think I'm growing up.
::15.1.06::
Last night I found out my sister had a copy of some photos scanned on her computer. These photos are from around 1999-2000 when my sister and I were producing our show on community television. We needed some publicity shots and so had a friend take these (I've cut my sister and friend out because I didn't think they'd like their mugs plastered all over my blog, especially since they don't know about it).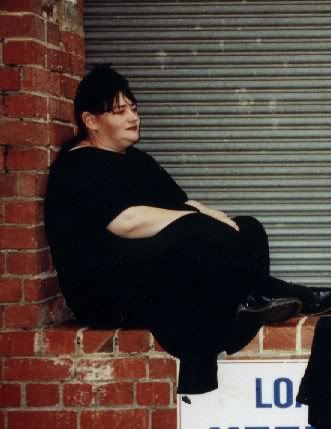 She didn't want to send them to me because she thought it would upset me to see how big I was then and, to be honest, it was quite a shock, but the thing that really struck me was how happy I looked.
My sister said our lives were shiny back then. We had so much confidence and really thought we could do anything we wanted. It was like we were on the verge of something good. About six months after these photos, I sunk into the biggest depression like I was in a giant hole with no way out.
It's funny though to think that I was so much happier then. You'll never hear that in any story in a diet magazine - this is when I was fatter but happier. But the reality is the two things aren't related. There is no magic equation. I've been fat and happy. I've been fat and unhappy. Now I just need to work on been healthy and happy.
Just for comparison, this is me in October 2005:
::14.1.06::
I'm feeling a bit better tonight. I was planning to go to the pool this afternoon and trying to decide which pool would be least crowded when I decided, bugger that and drove down to Torquay to the beach.
By the time I got there, it was too cold to swim but I went for a huge walk and did a lot of thinking. I had a lightbulb moment - one of those times when something so obvious suddenly makes sense.
I guess the best way to explain it is to use an analogy - it's like if you have a toothache and you take painkillers to soothe it. You stop taking the painkillers and you start feeling the pain again. The pain hasn't gone away, it's just been controlled.
It's the same when you use food to ease an emotional ache - stop with the food and you lose weight but there is nothing to soothe the pain.
If you have a tootheache and you stop with the painkillers, it's easy while the pain is dull or has gone away and you can be all - "look at me, I'm strong, I don't need the painkillers" but you are only tested when the pain comes back in force.
And, like a toothache, the only way to exist in the long term is get a permanent solution. It's not easy but it's the only way.
***
I've mentioned in previous posts about the evil weighing machine at the Jam Factory (which is a shopping centre for non-Melbournites) that keeps telling me YOU ARE
VERY MUCH OVER
YOUR RECOMMENDED WEIGHT (I'd link back if I wasn't so lazy). Well I got weighed today and it said - YOU ARE ABOVE YOUR RECOMMENDED WEIGHT. No VERY MUCH... ha! Got to be happy with that.
All week I've been looking forward to boxing this morning - it's normally one of my favourite classes - but I woke up and something inside of me stopped me from going. Part of it is that I'm so sore from doing cardio work at the gym yesterday that I can't walk properly (damn stair machine) but another part of it is a little kernel of fear.

I just felt that if I went to the boxing class, I'd be awfully exposed. In most classes you can hide away at the back but in boxing you work in pairs and it's a fairly small class so you have a lot more focus on you. That doesn't usually worry me but today I just can't deal with that attention.

I don't like having to deal with this kind of thing. I don't like backing down once I've decided to do something. But I've left it too late now - the class has already started and I'm still sitting at home in my pyjamas.

It would be easier if I knew where this fear came from - I've felt like this before, but that was when I was so big that I'd get all kinds of negative attention just going places. I thought I was over all that. I'm different now - I go out and do all kinds of things and, even if I feel a little nervous or intimidated, I'd push myself out the door. But this is different - this is like some kind of anxiety attack that something bad is going to happen, that I will do something WRONG. Weird, huh? I mean, who is even going to care if I'm not an A1 perfect boxer. It's just a workout class.

The thought of huddling in my room all day watching the rest of Veronica Mars that Andrew downloaded for me is so tempting. Hiding out from the world in my pjs, not having to talk to another soul. I don't even want to leave my room when my housemates are around. I think I need to force myself to go out. I want to go for swim since I missed boxing (and then a spa to soothe my aching muscles).

Sometimes I think it would be easier if I could just give into these feelings - huddle in bed for the day and know that it's going to pass - but I just can't do that either. I've got to fight and that sets up a whole conflict.

I get so paranoid when I'm like this. If I hear people laughing, I thnk they are laughing at me. I can operate normally at one level but inside I'm a scared little girl who can't cope with the big world. I need my safety and my familar things.

I'm not exactly a bundle of laughs at the moment, am I? I wish I could figure out what has triggered these feelings. Maybe it's being back at work or maybe the whole Christmas thing. Maybe it's just something I deal with as I lose weight and no longer have protective layers of lard to hide behind.

Hopefully it will all get sorted out. But I'll finish on a happier note - weighed in yesterday and I was down to 79.2 kg.
::12.1.06::
I guess it's no surprise that I've always been an emotional eater. I eat when I'm upset or depressed or lonely or happy or grumpy or bashful. It's always been my way of dealing with things.

So lately I've been losing weight and you think the emotional eating thing would be sorting itself out but I've realised I've just a whole new coping mechanism. If you've been reading any of my posts for the last week or so, you might have clued on to the fact that I've been feeling a bit down. I guess I've felt this way for a while - over the Christmas period.

Instead of weighing to mask the pain, I've gone to the other extreme. I have an obsessive personality and recently that obsession has turned to my weight loss. I've got to the point where I wanted to push myself harder and harder. Not because I was enjoying it or because it was good for me, but I guess in way to outrun the pain. The same with food - instead of overeating, I've been obsessing over every calorie.

The thing is, if you eat instead of dealing with your problems, you get fat and when you get fat you feel worse. But if you use exercise to deal with your problems, you lose weight and everyone thinks that is great. But at the end of the day, it's still not good... you know.

A lot of the time, I don't even know if the problems I have are real problems or just in my head. Does that sound crazy? It's like I think people are avoiding me or that they don't like me but I don't know how much of that is real and how much is my own paranoia. And, of course, when you start thinking like that everything people do just confirms what those doubts in your head.

I think I've mentioned before how when I was growing up, my Mum would always tell us that our friends were just using us. If a friend wanted to stay the weekend, she'd say they wanted to because they liked some boy who lived nearby or because we'd got good stuff for Christmas or something like that. So yeah, I have still have a lot of doubts about everything to do with relationships. Most of the time I'm okay, but times like this, when I'm not feeling so hot about myself, it gets worse and worse.

Next week, when I've finished my work contract, I think I'll make an effort to get some counselling. I think I need to talk to someone impartial about things. In the meantime, I'm trying to take a moderate approach to things and to relax.
::11.1.06::
I have a new love in my gym life. Tonight I did a pilates reformer class - whoa, was it fun... more like play than working out, sliding up and down on the reformer beds. Hopefully I'll still see it like that tomorrow cos I have a feeling I'll be very sore.

I'm having an early night tonight cos I'm still kinda exhausted so I'll catch up on all the blog world news tomorrow.
::10.1.06::
I still feel like crap even though I slept for 11 hours last night. But I made it through the day at work and that's the main thing.

At lunch time I went to Vic Market and got some fruit. It's so cheap there, much cheaper than Preston Market. So I decided to walk home after work - I know I'm having a rest day but I figured a slow, leisurely walk home wouldn't hurt. Anyway about halfway home I went to cross the road and stumbled. Then my fruit-laden backpack flipped over my head and took me with it and I ended up sprawled on the road. I didn't hurt myself and it was kinda funny. I was just thinking the other day that I never fall over now I've lost weight. I guess I still have the clumsiness.
::9.1.06::
I left work tonight feeling dead tired. I'd have given the gym a miss but I was meeting a girl from Diet Club for Pump class. I got there way early so I went on the treadmill. I started sweating and could hardly move. And that was just during the warm up.

I thought I could push myself through it. But that was the dumbest idea ever. There was no pushing. In the end I decided to quit and go home. No way could I manage a pump class.

At first I thought I might be coming down with the flu but I think it's more likely that I've been pushing myself so hard for the last few weeks. I'm having a rest day tomorrow then I'll see how I feel. The temp job I've got is only for a week so I don't want to jeopodise that by getting sick.

Arrrghh! I might be a machine but at the moment, I'm a machine in dire need of a grease and oil change.
::8.1.06::
Friendships can be rocky roads, of the bad non-icecream kind. It's an area where I've always had problems. Not so my sister. When we were teenagers, she was the kind of person who always friends calling her up, asking to do things or go places. With me, it was the opposite. I'd make plans with my friends and they'd call at the last minute and cancel.

As she'd go off doing her stuff, Mum would give me a pitying look then compensate by cooking us up a treat or giving me money to buy snacks. So I learnt food was my constant friend. So an eating disorder is created.

I'm having friendship issues at the moment. I've mentioned before that two of my best friends, Tim and Simon, are overseas. For the first six months or so that they were away, it was fine. I missed them of course but things were fine. Now it's summer and I keep thinking of the things we always do in summer - how they'd call up and say come over cos they'd lit up the bbq or they were going to the beach. I don't really have any other bbq or beach friends.

So how do I deal with that? Not by eating, that's for sure. I guess by finding other things to do with other friends. By making the most of my time.

It's funny. My sister is still the popular one. She's always at social functions or going on holidays with her friends. She is constantly busy. I guess when you have the belief that you are popular and that people will like you, you project those things out into the world and the world responds.

I guess I'm just feeling a bit down tonight. It's nothing serious and I'll be over it shortly.
::7.1.06::
As I mentioned below, I want to do the 14.7 km course in the Run For Kids in April. On their site, they say you have to be able to run 10 km in under 2 hours (I think because they are closing the Domain tunnel and want you out of there so they can reopen it to traffic). Now I was pretty sure I could do that. After all, I can do 5 km in 40 minutes. But I thought I should test it out.

Tonight I went over to Albert Park lake to check my times. I wasn't even sure if I could make 2 laps of the lake but was determined to try. The first time around I did some running and some walking. They have markers every 500 metres and I thought to myself, I'd really love to be able to run the whole 500 metres without stopping. When I got to the 2.5 km point, I thought bugger it, I'll give it a go. So I started running and running and thought the next marker would never come. Then I say it and I was like - woohoo! I did it. Then I was like - shit, I'm going to die. So I walked some more and ran some more.

Second lap around, I thought well I ran 500 metres last time, I'll try it again. I ran the 500 metres and when I got to the marker I thought I'd just keep going for a little bit. Then a little bit more. My legs were so heavy and I was going at the slowest jogging speed ever but I told myself to just keep going. And, woohoo! I ran a whole kilometres without stopping. I did it.

I think out of the 10 km, I ran about a quarter of it. I'm going to be so sore tomorrow. I did it in just under 80 minutes too but I'm not sure if it was a full 10 km because it was a bit confusing around the start/end markers. Still I'm more than happy.

Afterwards I sat on the grass under a tree and did my stretches then just relaxed and watched everyone around the lake and sun setting and felt the most amazing peace. Or was that exhaustion?

Before I left, I said to the lake - "I'll be back and one day I'll run you without stopping." The lake was just like - "whatever". But that day is coming.
I tried on my wish jeans today. I only need lose 15 cms to get them to do up. I am really finding this a much better way to measure belly fat than doing a hip measurement.
This is my plan (I've mentioned this stuff before but need to remind myself):
Get down to 70 kgs
Stop weighing and focus on my measurement
Maintain
How easy does that sound in point form? Ha ha. Maintenance is something I've never had to think about before really. I mean, I've maintained my fat weight easily - I had periods where I stacked on weight but mostly have stayed the same weight most of my life but I think it's easier to maintain your 100+ kg figure. On the plus side, I have so many fitness goals that I want to achieve now for the sake of actually achieving them, not just for the sake of losing weight. Exercise is an essential in my life now as a hobby that I love.
The other thing is that even though I still snack far too much, I find it hard to eat junk food. I left the gym the other day, ravenous, and went to the QV food court. That devil on my shoulder was saying "go ahead, you can have something naughty, you just did a huge workout" but I couldn't do it. I went to Sumos for a salad instead. I'm like Spike after he had the chip implanted in his brain except it's a junk food chip instead of a human blood one.
What I've got is a job. For next week anyway. I'm not sure how long the role will last - initially I was told a month then 1-2 weeks. I'm going to have to get my shit together so I can go to the gym after work every night. I also have to pop into the city and look for some work clothes.
What I need is friends. I want to go to the
Makeover Expo
and none of my friends are girlie enough to want to go. Anyone interested?
I ate too much yesterday, I'm such a pig of fruit... and of turkish bread. Oh well, it could be worse. I always seem to go overboard on market day. It's like I want to taste everything. I did get a big box of fruit for $1 that I made into a yummy fruit compote last night. A while ago, I talked about getting a stab blender for my 30 kilograms lost reward, but I can't really afford it at the moment. So when I was stewing the fruit last night, I thought I might go buy a heap of spices instead. All I had was cinnamon and nutmeg. I really want some ginger and cardomon and cloves. Afterwards, I realised I could have chucked some of my Chai spices in.
I've always loved reading diet magazines especially the success stories. Of all the stories I've read over the years though, the one that made the biggest impact on me though wasn't someone who'd shed a truckload of kilos or had a dramatic loss. It was the story of a woman who'd lost a bit of weight but what got me about this story was that I thought she looked better in her "before" photo. She looked awfully gaunt in the "after" photo. At the time, I checked out her before weight and thought I can do that.
Well yesterday, I had to take Andrew over to our storage space. He wanted to buy my complete Chronicles of Narnia (yeah, the books that I tried to get him to read his entire childhood!). While we were doing that, I grabbed a heap of old magazines to read through and found that story again. It was strange - the woman's weight in her before photos was 91 kg. Of course, her weight distribution is completely different to mine but she still looks too thin in her "after" photo.
::6.1.06::
One of the most exciting milestones during my weight loss was getting into double figures - that magic moment when the scales click over from 100 to 99. It's not much of a difference but mentally it means so much.

Well I had my weigh in this morning and I've reached another milestone. Single figures! Not that I've shrunk down to a tiny 9 kgs overnight but I have less than 10 kg to go to get to my goal weight. My weight this morning - 79.8 kgs - woohoo, I'm in the 70s.

I can't believe it. I mean, maybe I'll get to 70 kg and want to rethink my goal but I'll worry about that when I get there. The weird things is that when I started out, I felt like I had so much to lose that I'd never to anyway near my healthy weight range. To be honest, in the beginning if I'd lost 10 kilograms and kept it off, I'd have been happy. As a diabete, I knew that losing 10% of my body weight would make a big difference to my health so that was worth achieving.

Then one day a tiny little spark entered my head - I can do this. I tried to fight it because I'd lost weight so many times in the past and regain it again. This time though, I began to believe it. It's not enough to want something or to think it would be nice. You do have to really, honestly believe that you can do it.

I think my overriding philosophy, the thing that has been different this time, is not even that I can do it but that I can keep doing it. Day in and day out. Even after a binge. Even when I'm sick. Even when it gets really tough.

Last night I didn't want to go to spin class but I got up and did it. I've come so far and, except for illness or injury, I've never missed a gym session when I've made up my mind to go. Now I've got to the point where I don't want to break that record. It works for me.

Now I've just got to keep going and kick the arse of this last 9.8 kilograms.
::5.1.06::
The interview seemed to go well. She's contacting my referees and calling me back in the morning. I get so paranoid about reference checks. I had an ex-boss once who, I'm pretty sure, bad mouthed me when giving references. I was going to get someone to do a pretend reference check to see but just couldn't - it would have hurt too much to find that out for sure because we'd had such a great working relationship.
I had to sit though a 40 minute induction video. It was so boring. You'd think that if you had to tell a person not to turn up to work stinking of BO, then maybe you shouldn't hire them in the first place. But seriously, they told you that in the video. They also kept showing signs that said "good housekeeping is everyone's job". I want one of those to put in the kitchen for my housemates.
After the interview, I went across the road to my all time favourite Japanese place for lunch (was going to go before the interview but at 1.00 the queue stretched out the door and down the street). I had a plate of miso beef with rice. They have me a mountain of rice so I divided off roughly a cup to eat. Still I feel like I've eaten all the food in the world. I have to eat slower. Normally I have a light lunch - sushi or rice paper rolls or a salad roll - so my belly is hating all the food in it. It's as tight as a drum and I just feel like napping but that's how sumos are made.
I so don't want to go to spin class tonight. I'd much rather nap and my thighs are killing me from my personal training session yesterday. I swear he made me do 500 squats. I never want to do a squat again in my life.
Yesterday I bought a notebook so I could keep training notes. Normally I just do a rough calorie total and try to do over 500 calories worth a day. That's fine for monitoring weight loss but it doesn't tell me if I'm challenging myself with my workouts.
I wrote a list of what I want to do each week in the front. Do you remember that episode of the Brady Bunch where Marsha starts high school and joins every club and goes mad running around to them all? Well that's what I was like. This was my initial list:
spin class x 2
pump x 2
weights x 4
run/walk intervals x 4
boxing x 1
pilates x 1
Then I realised that I can't do it. Not unless I clone myself and have two of me working out. I mean, I could do spin class plus weights on the same days and I could do pump and run/walking on the same days but it's all just too much. I'd have trouble doing it now when I'm not working so imagine fitting that around work and study. I think I need to work out what I really want to do but I want to do everything. When did I become this person?
I'm beginning to realise that one of my biggest diet problems is my son, Andrew. Not that he is a problem himself. The problem is the way I related to him. I use him to indulge my worst habits, all in the name of being a good mother.

For example, if we went to a coffee shop, things would be like:

Me: Don't those cakes and slices look good?
Andrew: Yeah
Me: Are you going to have one?
Andrew: If you're shouting...
Me: *sigh* I suppose I could get you some lemon slice.
Andrew: Mars bar slice.
Me: I think you'd prefer the lemon slice.
Andrew: No, I want the Mars bar slice. If you want the lemon slice, get it for yourself.
Me:I don't want any slice.

Me: That slice looks like good. I might have to try a little bite.

Andrew: Mum, you've eaten half of it.

It's bad for me. I have to either be willing to admit that I want a treat and work it into my day's food rather than thinking that I'll "just have a bite" or else not have it all. I have to quit thinking that I'm being a nice mother and getting Andrew something nice when really I'm doing it for me.

It's also bad for Andrew. I'm not discouraging him from eating rubbish, instead of being like one of those food pushers that annoy us so much. I'm perpetuating that whole "food is love" myth in his life. I'm teaching him that bad food is fun and healthy food isn't.

When I do these things, I'm not being a good mother, I'm being a bad mother. From now on, when I shout, I'll be shouting bags of plums and nectarines at the market; I'll be encouraging any kind of fresh vegetable I can get him to eat; I'll be sharing recipes for healthier food. In the long run, we'll both be better off for it.
::4.1.06::
Jeez, I have a lot to say for myself today but forgot to say that the reason I was in Myer was not to buy cheap bras but because I was looking for an outfit for an interview tomorrow. I literally have no summer work clothes because I threw out everything from last year and my last job was pretty casual. Had no luck in the city though - everything was either hideous or too expensive. Oh well, I think I'll be okay because it's not going to be too hot tomorrow.

I'm not sure if this is a formal interview or if it's a sure thing and they just want to meet me in person to make sure I'm not a mutant. It's with a temp agency for a job that starts Monday for a month so I'm hoping it's the latter and I get offered it straight away.
Just to answer a few questions - the picture above was from a zine I made full of stories of my internet dating experiences. I guess it's me sending my fragile heart out into the world *sigh*. Narnia was good but not great. I thought the special effects weren't so good - half the time the animals looked like stuffed toys and it was a bit modernised in places. Also they seemed to copy a lot of the look and feel of Lord of the Rings which annoyed me. I guess I'm a harsh critic - the Narnia books were my absolute faves when I was a kid.
Speaking of the movies, I want to rant about a couple of things. Firstly, before the movie they had ads for Narnia happy meals. That is wrong. So wrong. I felt like they were desecrating my childhood. You can have your Lord of the Rings happy meals and your Harry Potter happy meals but not Narnia. Damn Maccas. I hate all this cashing in.
The other thing is people taking kids to the movies. I know it's a movie aimed at kids but seriously why do people take babies? I get so mad when I go to the cinema and someone's baby starts crying halfway through the film. We purposely went to the latest screening so there would be no kids there becaue it bugs me so much. I've been to films with kids running up and down the aisles and the parents doing nothing to stop them. When Andrew was young, I'd have never dreamed of taking him to the movies until he was old enough to sit though a movie without getting bored. They have those mums and bubs sessions at the movies so maybe they should have over 12 yo sessions or something like. I know I'd be more tempted to go.
Okay, enough ranting. Now a woohoo - I've been wanting a good sports bra for ages but have been wary of buying one while I'm not working but walking through Myer today I saw a big sign saying the Berlei Ultrasports Bra was reduced to $29. That was definitely a sign - a sign from the fates or the gods or whatever, I mean... not just a sign on the wall. So I got myself one! The sad news is that I had to go down a cup size. Sob - I'm now a C cup. For years, all I had in my favour were my boobs and my neat ankles.
If you live in Melbourne, go check out the stuff the lovely Jadey has posted on
Absolutely Flabulous
about the Run for the Kids. Sounds like a lot of fun and the money's going to a good cause. I initially thought about doing the 4.5 km run but the 14.7 km course looks challengingly tempting and you get to run over the Boite bridge.
Way, way back in my day, lots of insults would get thrown around the school ground - scrag, moll and the one the boys at our school loved to us that we never really understood - ya frigid slut. But definitely, growing up in Australia in the '80s, the worst insult you use was that someone loved themselves - they had tickets on themselves or you'd tell them to go find a ladder so they could get off themselves. Heaven help the girl who had self-esteem, she'd soon be cut down to size.

Nowadays of course, we have people like Oprah and Dr Phil to help us understand that loving yourelf is the greatest love of all. Self-love (of the non-physical kind) is a huge thing. There are racks and racks of books in Borders dedicated to the subject.

But how do you love yourself? I have days when I think I'm the bee's knees - that I pity everyone else for not being me. But I also have days when I am the most wretched creature alive. It really is a lot of work actually liking yourself day in and day out - having belief in yourself, that you are good enough. That you are enough.

And in the end, that's what's most important isn't it? I mean it doesn't really matter what the scales say or what size clothes you wear. You have to like what you see when you look in the mirror.

I think that's a bad thing when you have been brought up to be self-depreciating - to focus on your faults and defects rather than your strengths.

I'd be interested to know what works for people. What do you do to make you feel good about yourself?
::3.1.06::
I've been reading everyone's new year's resolutions. Man, I think we should name 2006 - The Year of the Runner. Seems everyone has some kind of running plan in their resolutions. By the end of the year there'll be no more weight loss blogs cos we'll all be at goal and we'll have running blogs instead. Yah! Go us!
It would be totally cool to put together some kind of challenge and see how far we run in total this year.
I track my eating using the
Diet Club
site (it's actually called Calorie King now) and they way they do it is you put in your eating calories and your exercise calories then get a net calorie total (food less exercise) - normally I don't look at my net calories because otherwise I'm tempted to exercise like a fiend then eat like a fiend - I aim for a total of 1500 food calories and 500 exercise calories - but yesterday I wanted to keep things low because I'd eaten so much the day before and my net calories for the day were less than zero. Not a good thing to do everyday but handy for damage control.
I'm so tired this morning - I could hear a weird noise last night like some kind of feral animal had gotten under the house and was gnawing on something. It was freaky and I had to leave the light on in case it gnawed through my floorboards and came for me. You know that having the light repels all manner of beasts.
I'm going to see Chronicles of Narnia with Andrew tonight and was thinking of making popcorn at home to take with me. The only problem is that he doesn't know I have his popcorn maker and if I turn up with it, he'll want the popcorn maker back.
Since I moved into this house, I've been too scared to even open the oven door figuring it will be a grossly disgusting mess. I've avoided cooking anything that required using an oven (I have a little toaster oven but it is too small for most ovenware). So yesterday I was in the kitchen and talking to one of my housemates about the state of the stove. I decided to brave a look inside the oven, preparing for a scene of horror. Instead, the oven is immaculate - cleaner than the oven in any other house I've ever moved into. I don't think it's even been used. Woohoo! I can make
Phil's
scrummy meatloaf recipe now. And some low fat muffins and other oven requiring things.
Oh but there is one teeny problem. The oven is the same as the one in my old house and I had a simple yet effective way of lighting it - I'd bribe Andrew to do it for me. Confession time - I am really scared of lighting gas - the stove is bad enough without trying to light an oven. I wonder how much I'll have to bribe Andrew now.
I was bored tonight and ended up playing with my template. I can't resist the girlie girlness and blue and purple is my favourite colour combination. It's so calm and nice. The picture above is one I scanned from a drawing I did for a project a couple of years ago.
::2.1.06::
On the 9th November 1999, I went to my second and last Weight Watchers meeting. I forgot to that card thingo that they write your weight on, so they wrote it on the back of my week 2 book. When I was hunting through my drawers the other day, I found it. I'd lost 2.7 kgs that week and was down to 123.4 kg. That meant that I had been over 126 kgs when I joined. OMG. And you know, I don't even think that was my heaviest weight. I just avoided scales for a long time. It really was a shock finding that.
And, while I'm talking about finding things, I rediscovered the name of a photography place I wanted to go to a while back. I really like the idea of those glamour photos where you get all the styling and gussying up before you have your picture taken but, let's face it, a lot of them make you look like a hooker. A year ago I was at an expo and got a flyer for
Alise Black Photography
. The photos they had on display were fantastic and the whole idea sounded fun. I even when so far as to make an appointment but my life was in turmoil so I postponed it then lost the details. Now I've found them again and I figure it will be a fantastic reward for getting to goal. You have three separate shoots with different looks and I'd love one to be like a 1920s style photo.
The other reward I want is
this dress
. I figure that will be my reward for being able to fit into and look good in that dress.
So far the year is off to a bad start - after drinking too much NYE, I didn't get up until after 1 yesterday and didn't have any food in the house. I didn't have the strength to go to the supermarket for many hours and when I did, I just kept eating. I think my downfall was buying a 6 pack of bread rolls. I ate 4 of the buggers before I got strong and chucked them in the freezer. Oh well, it's back to the gym today. I checked my maintenance calories yesterday, cos I thought they were around 2,200 but no. More like 1800. I have to remember that.
::1.1.06::
I hope everyone enjoyed their celebrations last night. It's great to see so many people back blogging - I missed you guys over the holidays. We went to the Tote to see some bands last night. It was stinking hot so ended up sitting in the beer garden most of the night, which was fun - lots of friendly folk to chat too. The freaky thing was that one of my son's friends was there - way to make me feel old. We went into the sauna-like heat of inside to watch The Spazzys who were great, then back outside for a while then to a bar near home for a final drink. I drank too much but too too much - and did drink lots of water so am not too badly hungover today.

I thought I'd do a recap of 2005, like so many others.

Last year didn't start off well for me. I do temp work and had some problems with my agency at the end of 2004 and then the lack of work over Christmas made things worse. So I started the year with no money and lots of debts. I'd had to go on the dole just before Christmas and that only covered my rent with nothing over!

Mid-January, I got some work but it was the most awful job. I rang my agency several times to see if they could get me something else and was basically told to quit whinging - I'd worked with the same agency for nearly 2 years and never complained about an assignment and had every client love me before that so I figured I had a right to complain. Basically I'd go into work every day and they'd give me nothing to do - if I asked for work, they'd give me some little task then ignore me. I was going insane and trying to find things to do - offering to help the staff etc. Then one day, this horrid woman I worked with (ie not my boss) abused me for being lazy and not wanting to work. I was upset and walked out, intending to go back and have it out when I got back but then just kept walking. I got a call from my agency on the way home and they wouldn't even listen to my side of things.

Meanwhile I'd gotten behind on my rent, having decided things like bills and food were more important - it's so hard when you have to decide between having electricity or a roof over your head but I figured I'd be working soon and could catch up. Stupidly, I didn't ring my real estate agent and tell them that. At the time, I kept thinking I'd be working again soon. Then I got a summons to go to court over the back rent. I rang the agents and told them I wanted to get everything fixed up. They told me to get to court early on the day and they'd figure out a payment plan but we had to do it at the court so it could be all legal-like to protect both parties. So I left it at that.

I'd gotten some work though another agency by the time the court date came and had to chuck a sickie to go to the court appearance cos no way was I going to ask for time off to go to court. I also had an interview for a long term IT role that morning. I got to the court, thinking it would be a 10 minute thing. The guy from the real estate agent told me that they'd decided not to let me made a payment arrangement because they wanted me OUT. I was shell shocked. Not only had they lied to me, but I'd not even tried ringing anyone like the Tenant's Union because I hadn't realised I'd actually need to go into the court.

We got into the court and the judge was a total bitch. I know a bit about the law - I studied law subject in uni - but she spoke in incomprehendible legal talk and made me feel like an idiot, a law-breaking idiot. She wanted documents that I didn't have and showed absolutely no sympathy. I still feel so angry that I was lied to by my agency and that she treated me like that.

I got out of the court and was a mess. Then I got home and my temp agency called and said that the people I worked for didnt' want me back. I lost it completely and couldn't stop crying. I had no idea what to do.

The next few days, I was in a daze. I had so much to do but had no idea where to even start. I had to get all my stuff moved and find somewhere for me to live and for Andrew to live and no money and no job.

Friends offered to let me stay with them and my sister said she'd loan me any money I needed so I organised to put all my stuff in storage. At least I had a plan of action. There is one thing that really hurts me from that time - a friend was going overseas for a month and she asked someone she hardly knew to housesit for her knowing my situation. I know that she had no obligation to help but it would have meant so much and I know I would have offered my home to her if the situation was reversed.

The one thing that changed in my life during this time was the way I dealt with my problems. Every tiny little upset in my life had me reaching for the chocolate or the pizza, but instead I started exercising and eating right instead. If I was upset, I'd go for a walk. I started losing weight because my mum and sister were going to Weight Watchers and I wanted to prove I could lose more weight then them on my own. And it was like something clicked within me.

Andrew and I moved in with my friends. It was so wonderful of them to let us because they were in the midst of packing up their house to move overseas so the last thing they needed were house guests. Disaster happened again in the process of moving - my car broke down. It got all dodgy and would start sometimes and not others. Just want you need when you are househunting.

Househunting was hard. I had to decide if I wanted to move with Andrew or find separate places. I had been told I'd go on a Bad Tenants register so thought I had no chance of being able to rent a place through a real estate agent. Andrew had started uni and had been travelling for over an hour each way to get there and back so I wanted to find him somewhere close to uni. I figured the best thing to do was find us both share places to live but that involved a lot of running around. It's hard enough to find a place for one person, let alone two. I got some more temp work which was great financially but made house hunting even harder. I really didn't to stay with my friends any longer than necessary either.

Then things started going right - I got the long term IT job I'd had the interview for and it was really good money. We went and looked at a couple of places for Andrew - I had a bad feeling about the first couple then we went to a nice place (well he went in, I figure you don't want your mother going in looking with you). He came out of the nice house and said he liked it and had told them he'd call them back. But he'd missed out on a couple of places with his dilly-dallying so I went back in with him and asked if we paid the bond money on the spot, could he have the room? So we got that sorted.

The next day I looked at a few places. One was a dodgy set up - you rented the room directly through the owners with no bond, no lease. The house was nice but I was worried about how secure it was. They rang me back that afternoon and said I could have the room. It was $110 a week including bills (I think the owners don't want anyone to know they are renting out rooms cos they are ripping off Centrelink and/or the Tax department so want no record of anyone living here) I had many reservations but I was desperate and it was cheap so I said I'd take it. At least with no bond, it would minimise the money I had to borrow from my sister. And no lease meant I could look for something better. I'm still living there by the way and not had any issues with security although I did go buy the biggest-arsed padlock for my room the day I moved in!

I moved in and started work. I had nothing - no tv and no computer. The house had no phone lines so even if I had a computer, I couldn't get internet. I had basically nothing. First up, I didn't even have a cord for my stereo - Andrew had packed it and forgot the cord. When we moved we'd packed what we needed and left the rest. I figured I wasn't getting my bond back and was so mad at the agents and the owners of my old house that they could deal with the mess. Of course, half the stuff I left behind, I regret now but what can you do?

At work, I discovered we were paid monthly - arrggh! So when I started, I worked for 2 weeks and got paid for that then worked for another 4 weeks before I was paid again. That was pretty brutal. I'd not been worrying about my weight while I was in transit. There is only so much you can do living with other people. But after I moved, my car when completely insane with not starting so I walked everywhere. I found a gym nearby that had a $4 casual rate and started going there. I'd walk down to the internet cafe so I had some online access.

Gradually, I started getting my life back together - I got my car fixed, I bought a cheap secondhand computer from a shop nearby (and had a few trips carrying the bugger back and forth, it's a heavy machine!). I bought a tv and a dvd player but over the months without it, I got out of the habit of watching tv. I still rarely watch it and mostly use it for watching dvds. I found out about iBurst internet - a wireless service that you don't need a phone line for - and got that set up. I love the internet. Having the internet back, was one of the happiest events in my year. I actually began having money to spend on non-essentials like clothes.

After that, most of the year was spent going to work, going to the gym and bumming around. I began pushing myself harder with exercise - walking the 5.5 km home from work and signing up for fun runs and doing spin classes. I began going to the market every week with Andrew to get all my vegies and meat. I got to know lots of lovely people in the online bloggers community too. I had a few setbacks like the worst case of flu I've ever had in my life and straining my lower back but nothing has stopped me.

And that was basically that until November when my contract ended. Since then I've been taking it easy. I'll have to go back to work soon but have been spending time writing. It's so nice to not have the responsiblities that weighed me down at the beginning of the year - having to make crippling rent payments for a start, and knowing that Andrew is growing into a responsible young man who can care for himself, even if the state of his bedroom leaves me in despair. I think our relationship has grown stronger since he moved out. It's weird - I always believed that he should clean up after himself and contribute to the work around the house but now I go visit him and want to clean his room. I stopped doing that when he was about 8 years old.

Yesterday I caught myself thinking that if I'd worked harder in 2005, I could be at my goal now but I shooed that thought out of my head. There is always more we could do but sometimes you have to accept that you have done enough and leave it at that. I lost 30 kgs, got my blood sugar and cholestrol levels from dangerously high to within the normal range, surpassed what I ever thought I could do physically and survived what I really hope is going to be the toughest shit life can throw at me. I've discovered I have friends who are there for me in the bad times - Tim, Simon, David - who have been the best support ever, my sister who I've bitched about since ... well since the day she was born really but who went out of her way to help.

Enough of the mush. I'm going into 2006 invincible and know we'll all be whipping butt this year.
Resolutions are so sanctimonious and dull - they are the things you should be doing and that's never fun. So for 2006, I'm having a life makeover instead. Definitely more fun. And these are the things I'm going to do:
Health and Body:
The word for 2006 is
tone
. Weight-wise, I want to lose 11.4 kilograms to get to my goal weight of 70 kgs but the largest task ahead is to firm up all the jiggly bits.
I really want to get to my goal weight before the end of March - that's when my friend is getting married and my other friends will be home from the UK.
I want to be able to run 5 km by the end of the year and continue pushing myself at the gym. I'd like to have the stamina to do a RPM hi performance (1.5 hour) class. Once I start working again and probably studying as well, I want to find ways to ensure that I still get in my gym time.
I want to get off my diabetes medication and control it by lifestyle only. I also must have all the diabetes checks - I'm a real slacker about these. Must go to the eye doctor and the podiatrist and try to get an appointment with a dietian as well.
Healthwise, I'd also like to be weller in 2006. In 2005, I had all manner of little worries - colds and flus galore, not to mention back problems. You would think getting healthier would have stopped this but it seems to have made it worse. I think one of the problems has been not cooling down properly at the gym. Also, I used to leave the gym all hot and sweaty and then shower at home. I've been thinking this isn't the best, especially in winter. I'm going to make sure I've cooled down completely before leaving from now on. Lucky I have my new gym with nice showers :)
Get a massage once a month. Sometimes I go to the massage school in the city and get a massage for $30. The place is fantastic and the students all do a fantastic job. Every time I leave, I think why don't I do this more often? So this year I will.
Appearance and Self Image:
I want to work on being more confident on the inside and less slovenly on the outside.
One of my big issues is my teeth. I hate my teeth and am very self conscious about them. In 2006 I will go to the dentist and get them fixed. I want to check out getting private health insurance to make this more affordable.
Work/Career:
For me, work is a two pronged thingie. On one side is the stuff I do to make money - usually IT or admin work and on the other is my writing. In 2006, I want to find a good way to balance these two things. Ideally, I'd like to find a part time job that gets me enough money to live on but leaves time for other things.
I want to finish the final draft of my novel and get it sent out to publishers by mid year.
I want to get at least 6 short stories written and published.
I want to get into my course (which, for those who asked, is the Diploma of Professional Writing and Editing) and get higher distinctions in the subjects I do.
I'd also like to write and publish some freelance articles. I'm a bit less sure about this one because if it comes to time, the novel is top priority and short stories second. This is definitely last.
Finances:
I want to stay out of debt this year and save money.
I want to buy a laptop. I want to spend some money getting my car in tip top condition.
I'd also like to travel a bit this year.

Living Environment:

This is a hard one - I'm not 100% happy with the place I'm living mostly with my housemates but I'm dead lazy about moving and there are definite advantages to living here - it's cheap as chips and I have a huge room. I think I'll take this one as it comes - see how things go here but save some money once I start working so if I want to move, I can.

In the meantime, I want to work on making my living space nicer. I might start by declaring war on the ants.

Friends/Social Life:

This is a doozy. I've not been happy with my social life at the moment and there are things I want to do -

meditation classes - I started doing this last year but I didn't like the spiritual context of the classes. I've since found one that is more to my liking and want to start in the new year.
life drawing classes
volunteer at the dog's shelter
But underlying all this, I want to change the way I relate people. I can be incredibly insular but it's no point going out, doing things and huddling by myself when I do them. I want to work on being more open towards people. I think a lot of the problem is that I changed schools a lot as a kid and got so that I'd sit by myself, reading a book, pretending that I didn't care if I had friends or not. But I have to get over that.
I am rarely "myself" around new people but I should be - sure not everyone will like me but too bad. It's a hard one.
I also want to go back to counselling this year. I had to quit last year when I stopped work but the other day I remembered a place my doctor told me about ages ago. They have a sliding scale of fees which makes it a much more affordable option.
Relationships:
I've realised lately that I have a lot of ambiguity towards the idea of a relationship. On the one hand, I like the idea but on the other I have this fear that if I have a man in my life, I won't have enough time for me. I have a lot of things in my life that require much me time - writing and the gym - and I don't want to sacrifice these things.
I guess the fear is that if I start a relationship, it will consume me and everything else will be abandoned.
So that's it. That's how I want my life to go in 2006.
Happy 2006 everyone.