::30.4.06::
The shoe shop had another pair of boots - same brand but just the plain, knee length zip up ones. I think I'll be back next payday. They also had some great casual shoes. I love that place - cheap shoes rock my world.
These are my boots (well the original ones - it's a very old photo).
I used to have a great pair of boots - long, lace up ones. I loved them. When I worked in the city last year, I'd often wear them to work then change into my runners to walk home. I didn't want the extra weight of the boots weighing me down so I'd leave them in my drawer and take them home with me on the tram the next night. A perfect plan until one night: I had major crisis going on and spent the whole tram trip on the mobile trying to sort things out. I jumped off at my stop, still talking into my phone and only realised later that I'd left my boots behind. Nobody handed them in and I mourned for my lost boots (and, I swear to god, I saw a chick wearing them at a bar in the city a few weeks ago).

Yesterday I went to favourite shoe and they still had the same boots in stock. How happy was I? I *had* to buy them. You can't argue with fate. But I didn't even stop there - I had almost got out when I saw a great pair of shoes. Mary Jane style with a chunky heel. Only one pair left in stock and they fitted perfectly - I can't fight that.

***

My eating has been out of control lately. I have no idea what's going on with me. I just eat and eat and eat like a runaway eating machine. I have no idea why I'm doing this - I want so badly to get to my goal but I seem to be constantly putting food in my gob.
::29.4.06::
What sort of cheese do you buy?

I'm very much on the cheese fence - sometimes I buy a yummy full fat vintage cheese thinking I'll use less because it's more flavoursome and other times I get the low fat option. I've never found a low fat cheese I really like though. Are there any good ones out there? I don't see the point in eating a non-delicious cheese though.
::28.4.06::
Up a kilogram this week - it's not unexpected but still annoying. I seem to be hovering around this 73-75 kg mark forever. I really don't need to do much to gain at the moment - my weight is like a frail butterfly. It wouldn't be so bad if I'd gone out and had a huge binge-a-rama but it's just all the little extras.

I've had enough. This is it. From now I'm going to be the Jackie Chan of weight loss - I'm going to kick 74's arse then giving 73 a roundhouse kick to the head. I'm going to flatten the chops of 72. Near enough isn't good enough for me.

I don't know if I mentioned this before but I'm thinking of changing my goal to 65 instead of 70. When I started out, 70 shimmered on the horizon like a distant dream. It's the top of my healthy weight range but I don't know if I want to be the top of the range. I'd like to be somewhere around the middle and 65 sounds good to me.
::27.4.06::
I just signed up for the Mother's Day Classic - woohoo! I wasn't sure what event I wanted to do so put down the 8 km walk. I figure I can always run it if I want to and at least I won't finish last. Is anyone else doing it?

I'm also thinking of trekking up to Sydney in August to visit my sister and entering the City to Surf.
I decided today I couldn't stand my hair for a moment longer so I got it cut after work. It's a worry getting a last minute appointment because you have to wonder why the stylist isn't booked out but I took the chance. I went back to the salon I went to last time -- they are very pricey but they are also good. Plus they have massage chairs. I'm a sucker for a massage chair. I also got a complimentary hand massage tonight. Score!

It's not quite what I wanted - I think it looks more like a '20s style bob than a '60s mod bob but I really like. But I think I want to change the colour now. I'm thinking some big chunks of bright red through it.

***

My sister has well and truly moved in. She wants to train with me but she is so unfit so makes it difficult. We walked to the supermarket the other day and she was struggling. I had to walk behind, poking her. She is all sickly and asthmatic as well as being unfit. But she's coming to the gym with tomorrow.

***

I really think I need to invest in a microwave. It's so hard managing without one. By the time I get home after the gym, I'm buggered so it's a major effort to cook up a healthy meal. I like having good food in the freezer that I can just reheat. And yeah, I could reheat it on the stove but that's a pain in the butt.

I also want to get a saucepan. I only have one biggish one and it has a dodgy handle. I've tried rescrewing it but can't tighten it. I had a look in a homewares shop near work today and they had a big, stock pot size saucepan that came with a pasta colinder (sp?) and a steamer for $69. It was tempting but then I realised I'd have to take it to the gym with me after work. The problem is that I go to the gym every night so it's never convenient to have a large saucepan on me.

The third thing I have to invest in is boots. Why is it when the heels are right, the tops are wrong and vice versa? I just want a plain boot with a mid-height chunky heel in black. At a reasonable price. I'm going to try my fave shoe shop this weekend - it's on the other side of the city so I've delayed going there but I have to trek across town on Saturday anyway so hopefully I'll get lucky.

***

I'm not hopeful about my weigh in tomorrow -- I think I'll have a small gain but I'm not too worried. Now I've started tracking again, I'll soon be on top of things again.
::26.4.06::
As I said below, I started counting calories again today. It's amazing how it keeps you honest. I've already identified a problem area - that big coffee and chocolate mini muffin I have for morning tea. One hundred calories in a teeny muffin is not so good.

I think tonight I would have assumed that I'd not eaten a lot today and felt comfortable having a treat but now I know I am close to my calorie limit so I resisted. Well I did have a diet mousse but that's much better than what I could have had.

Over the past few days I've been feeling like I'm coming down with a cold or flu - not totally sick but not 100% either. I hate that. Sometimes I'd rather just get the damn bug and be done with it. I was like this last winter too and I'm not sure if it means I'm getting more sickly and picking up things easily or if I'm getting healthier and instead of getting sick, my body is fighting it.

I had doubts about going to the gym tonight but I went and did a huge run with giant hills on the treadmill for half hour then some fast running - I have this weird thing that my "reward" for doing the giant hills (which is a top fat burning workout) is to finish with about 10 minutes of running flat out as fast as I can. Yes, I am insane!

After that I did my upper body workout. I'm getting better at pushups - my PT had me doing them on a bar on the Smith's machine and I'm gradually getting the bar down lower. My goal is to do them on the floor - real, live pushups. I saw a chick doing proper pushups the other day and I was so impressed because most girls don't do them at all. She was even doing one handed ones (show off). I'll do that one day.
Last night, I went to see Martha Wainwright. Damn, can that girl sing! It was fantastic.

But, onto weight loss. For the past month or longer, I've been up and down with my weight. Everything seems much harder and I've been telling myself it's because I'm close to goal. With only a few kilograms to lose, my weight has been reaching a "set point" and wants to settle around there.

But, you know, the honest truth is that I've been eating too much. I haven't been tracking my food and the treats - chocolates and glasses of wine - have been steadily sneaking in. It's not like an all out binge, just bad habits that need to be beaten back into submission with a big stick.

I think the only way I'm going to beat this is to go back to counting calories. I need to keep myself honest and, even though it's a pain, counting calories is the best way for me to do it.

Seeing Phil reach her goal and Angie almost there has been a kick in the pants. There is nothing *magic* about getting to goal - just honest work. Same as it is at any time with weight loss.
::22.4.06::
Sometimes I feel like I'm living in a fun house. You know, the room with the weird-arsed mirrors. When I see my reflection, I'm either much fatter or much thinner than I am in my mind.
After the gym today, I wandered through Target with no intention to buy, after all I have no money until payday. I
really
need a coat though. Is it just me or do other people suffer from the cold so much more now? I have to say this for fat, it's damn fine insulation. Maybe I should have kept some it around to line my walls. All my life I've hated those thin chicks who bitch about the cold. "Get some meat on ya bones," I'd yell at them. And now I am one!
So I saw the cutest duffel coat with a furry parka style hood. I had to try it on. Just had to. I checked myself in the mirror and was like - "holy shit, I'm THIN!!!" It hit me like a right hook from Mahammod Ali. I've thought before that I look
better
or
thinner
, but never thin.
Of course, next time I look in the mirror, I'll be expecting it and I'll be amazed at how fat I am but, for now, I have the thin image of me in my head.
Anyway they have 25% off coats at the moment and it might not have been there on pay day and I've already dipped into my rent money to get my Martha Wainwright ticket so I thought what the hell? Did I mean I look like a full on 60s mod chick in it? Did I mean I love my coat? Which might be real handy when I'm using it to cover me on that park bench I'll soon be calling home.
This has completely solidified my decision to get a 60s style mod hair bob - shorter at the back with layeredy bits curling onto my face. Oh yeah, and the home colour looks fab. I really like my hair darker. (And, for M, it's a Soft Colour - semi permanent).
Priceline also had these Garnier highlight kits for pretty cheap and they looked easy to use so I think I might put some highlights in next week. They only came in various blonde shades though and I'd prefer red but then everything goes red in my hair anyway. The only time I've ever sucessfully gone blonde, it took three applications of triple strength bleach and my scalp has never been the same since.
It's almost definite my sister is moving in next week. She's sold her car and bought her plane ticket. She thought my mum would be upset but mum is pleased to see the back of her - lol. I have mixed feelings about it - she can be a burden at times (and if you are reading this, Anita, stop snooping around on my computer) but it means she can supervise the eveness of my highlights and do other girlie girl things with me.
Finally, for everyone who commented saying they don't know who
Martha Wainwright
is - you should check her out. In the immoral words of Molly, "do yourself a favour". You won't regret it.
::21.4.06::
Finally, the 73s. I've been waiting to get here for the last month. It really has been the most bumpy month in my weight loss and the first time I've had a real set back. Thankfully, I'm back down to pioneering territory.

I think the longer you spend losing weight, the less fluctuations of the scales mean to you. Sure it's always nice to see a steady decline but, when you're starting out, a slight gain one week is a huge disaster. Even a small loss is hell. I remember a few weeks in, I only lost a few grams and I was devastated.

Now I realise that weigh in isn't like getting an exam back. It's not like getting a pass or fail grade. And it definitely isn't a reward or punishment from some great scale god somewhere. All it is, is a reflection of how much I weigh at a specific moment in time and that reflection can include many non-fat related factors.

***

This isn't weight related but I decided ages ago I wanted to see Martha Wainwright when she toured. Then, because I had to wait so long to get paid, her show last Thursday was sold out. That made me very sad until I got the street press this week and saw a second show announced. Except that I again had no money and the show is on Monday night. I debated spending my rent money on a ticket - my landlords come around to collect the rent in person and I never know if they are going to turn up. I thought of ringing to see when they plan on coming around but that might remind them that I owe rent.

Yesterday, I phoned about tickets and found out Monday night's show had sold out but she was also doing one on Tuesday. I ran down after work and scored my ticket. When fate is screaming at you to do something, you have to listen.

So anyway, since no one else I know is into Martha Wainwright so I'm going alone on my own. I'm a bit nervous about that but I'd much rather go on my own than not at all. I'd much rather go on my own than drag along someone who doesn't want to be there.

Still I do get a bit self-conscious about these things and imagine everyone is thinking looking at the loser with no friends even though I've never thought that if I've ever seen someone alone at a band. Actually I've never even paid attention to whether someone is alone or not.

***


Btw. I dunno if anyone noticed this but I had a typo in my weigh in weight last week. I said I was 24.5 kg. Thank God that's not true.
::20.4.06::
Lately I've been thinking about chocolate - not to eat but for my hair. So tonight I popped into Priceline and got a hair colour. I'm just waiting for it to process now. So, spookily enough, when I went to pay I joined their club and got a free box of chocolates. A cheap version of Guylan shells. I've put them in the fridge and keep telling myself it will be low quality chocolate so not to bother opening them.

I had breakfast with my sister this morning. Not much to eat but three cups of coffee. I guess that's excessive but I normally have a large takeaway one so I figure it's about the same. Maybe. I did feel jumpy for a long time afterwards.

During breakfast my other sister called. She's decided to move to Melbourne, into one of the spare rooms in my house. On Monday. I'll believe when I see it. It made me panic though, what if I can't sustain my new habits with her around? It's a lot easier to get off track when you have a partner in crime.

That made me wonder about what I'm doing. Is it just to fill in time? Something I've taken up because Andrew left home and I had empty nest syndrome? I don't think so. I've been lucky that I've had ample time to fit my exercise schedule into my life but, even when I've been flooded with work and other commitments, I've found the time to go to the gym and I've made the effort to eat well.

I guess whenever something or someone new comes into our life we have to work out if they are going to fit into the gaps we already have or if we are going to make those gaps wider to accomodate them - and if so, what do we sacrifice in the process. Where do I place in ME in the priorities of my life?

Now I must go wash off this colour.
::19.4.06::
I didn't want to go to the gym tonight but ended up doing a huge workout - running then weights then boxing. Normally boxing is more fun than an intense workout, but not so tonight. Man, are my arms sore. I think they don't want to be part of my body any more.

Afterwards, I was stuffed so was going to grab something in the city for dinner. Nothing looked appealing - Subway was an option but I really don't like their food - so I popped into Coles and got some dried apricots, cashews, an apple and a mini cheese. Ended up having a little picnic while waiting for my train and all for under $3.

Stupidly, I also bought the latest issue of Slimming magazine. I hate it so much when you pay money for a magazine and they have articles that are reprints of stuff they published a couple of years ago. I don't think I'll pay money for that magazine again.

I was looking at the Slimmer of the Year competition. A few years ago, my dream was to win Slimmer of the Year but now I wouldn't enter. Morally, I don't think I could. In order to win, you have to go basically attribute your dieting success to their magazine and screw that shit. They can keep their holiday in a tropical destination and I'll keep my success for myself.

Anyway, I don't need some magazine to make me Slimmer of the Year because I award that to myself. Not saying I'm a better "slimmer" than anyone else - you can award it to yourself too. We can all be Slimmers of the Year, kinda like when Buffy made all the potential slayers into The Chosen Ones or something like that.

Tomorrow I'm having breakfast with my sister. Part of me is pleased to catch up with her and hang out and another (big) part of me is hanging out to see if I'm smaller than her. If so, I win! I'll be the smallest in the family. Woohoo! The smallest and the leader in the family footy tipping.

My housemate is moving out tonight. I've gone from having four housemates to one. It's like living in the Big Brother house except I don't get a nice wad of cash for sticking it out. But then again, I don't have to be humiliated on national television either. Luckily I don't have to cover his share of the rent but I'm really going to miss him... his washing machine especially. First one housemate takes the microwave, now the washing machine. I have no appliances left.
I watched The Biggest Loser last night for the third time since it started and it seems more like watching a soapie than a show about weight loss. Is there some kind of gay love thang happening between Bob and Andro? There is some serious chemistry going on there. I was having a fit when he was making Andro lift the weights - the form was all wrong!

I haven't watched enough to know what the whole drama with the weird facial hair dude was but I had to laugh when Jillian accused him of 'water loading' - I mean where would you learn a trick like that if not for the first week of the competition?
::18.4.06::
I was going to buy myself one of those humpty dumpties with chocolate beanies - they were half price at Coles - but then I read how many calories are in them. Holy moly, I don't need that.

I went to High Performance RPM tonight. I had planned to do a quick run on the treadmill as well but I only thought that because I'm a fool. You do very little after High Performance RPM. It should be called High Pain RPM. We kept doing these rides where you bump up the resistance and stand then sit down without taking off the resistance, then put on my resistance and do it all over again. I could hardly turn the pedals.

I swear I was on a dodgy bike cos I only had to turn my resistance a teeny bit and it was insanely hard. It was hard going with NO resistance. Last week I had my resistance up nearly the full way on the bike I had. You'd think they'd calibrate these things but it seems not.

Yesterday I decided not to exercise because I wasn't feeling great but then I felt guilty so I went for a walk. It really annoys the hell out of me walking down Smith St during the weekend - the place is full of people going into the sports outlet shops buying expensive runners when they so obviously don't exercise. I've never liked or worn runners as casual shoes and I think it's damn foolish to spend all that money unless you have a specific reason for it - ie. unless you actually run. Sometimes I feel like getting behind them with a cattle prod and making them use their shoes properly. Mostly I'm just jealous because I need new running shoes and can't afford them for a while.

Also, is there any advantage to buying label name sportswear? I buy most of my gym stuff from K-Mart. I've been into the factory outlets a few times but even when it's reduced, it's so much more expensive and I can't see any difference. No way in hell would I pay $50+ for a pair of tracky pants. Well not unless there is some secret ingredient in them that would make me run faster or better.
::17.4.06::
Andrew and I did the easter thing yesterday, mainly because I wanted to go over and the latest eps of Veronica Mars he'd downloaded and I didn't want to wait. Andrew had tried playing the - I shouldn't buy you anything because you are trying to lose weight - card but I told him I fully expected chocolate from him.
Every year for easter, since I was a kid, I get a humpy dumpty with chocolate beanies. It's my fave easter treat. So I thought that's what Andrew would buy me this year but no, I got a chocolate rabbit. I asked him why he didn't get me the humpty dumpty and he told me he'd planned to but he'd won the rabbit in a skill tester so gave me that instead. I was surely wiping the tear from eye at that sentimental gesture, let me tell you. It was pretty yucky chocolate and tasted kinda stale but I ate it.
***
My weight has been doing weird things - I weighed myself Saturday morning and had dropped another 2 kg, down to 72.5 kg. That freaked me out. I don't like the scales being all wacky on me. I think it was because I'd been drinking on Friday night (a bad, bad move). I didn't even drink that much but I'd had a late lunch and forgot to eat dinner... bad, bad move.
Alcohol always does weird things to my weight. And my blood sugar. Well to my entire body. I'm thinking of quitting again, it's just not healthy with the diabetes. It also wrecks havoc on my moods - I seem to have a huge bout of depression after drinking. Who needs that? My moods have been wacked out enough as it is.
So anyway the scales were back up in the 74s this morning so I have no idea what's happening. I think I'll put the freak loss down to dehydration and skipping meals. As much as I'd like to be in the 72s, it was a relief. I kinda felt like I was disappearing there for a minute.
***
I had the worst run today. I decided to run along the city circle track to Princess Park, do a lap or 2 then home again. That works out to be 9-12 km (depending on the number of laps). My legs felt a bit heavy, then got heavier then really started aching. By the time I was finishing my lap of the park, I was in agony and thought I'd pulled a hamstring. I had to limp home and, since I'd expected to be all hot and sweaty from my run, I hadn't taken a jacket. I froze in just my tshirt. Seriously, I had trouble putting my key in the lock because my hands were so cold.
It was so nice to get into the shower and warm up. I gave my legs a good massage and they are fine now so I don't know what was going on with them. Damn legs.
***
I'm knicking this running meme from Jaykay:
1. What time of day do you run?
During the week, after work at the gym. On the weekend, when I get up and motivated (so usually after lunch).
2. What are your favourite runs?
Definitely not on the treadmill, but it's easy. Maybe Albert Park - can't wait to get my car fixed so I can go places to run instead of the gym and around home.
3. What is your favorite song(s) to run to?
Rosalita - Bruce Springsteen
Get Your Hands Off My Woman - The Darkness
(He'll Never Be An) Old Man River - TISM
Defecate On My Face - TISM
She Riff - Magic Dirt
Bow River - Cold Chisel
Paco Doesn't Love Me - The Spazzys
Jailbreak - ACDC
Gone Away - The Offspring (and yes, I do feel embarassed admitting that)
Just Ace - Grinspoon
4. What book are you reading at the moment?
None
5. When did you start running?
The end of last year.
6. What's your post-race/post-run ritual?
None, unless I'm at a fun run with sausages. I love sausages.
7. What do you eat before you run?
Nothing special.
8. What's your favorite running accessory?
My ipod.
9. What's your motivation for running?
To get fast enough to steal things and run away. Especially when people are barbecuing sausages. I had planned to run really fast so I could steal an ipod off a fat kid but now I have my own so I'm thinking of targetting one of those rich private school kids who have laptops in their school bags.
10. What are your running shoes?
New Balance 766 (I think). I need to buy new ones soon cos my sharp toe nails are starting to tear through the mesh on the top.
11. What is your next running goal?
To run 5 km in under 30 minutes.
::15.4.06::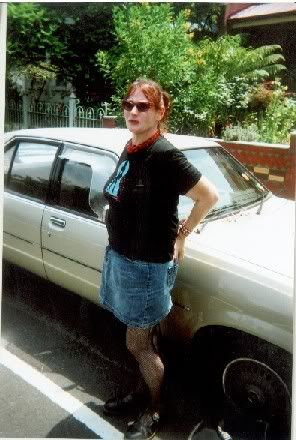 Me, looking like a hard faced old scrubber on my way to the Big Day Out in January.
Me in my tiara - Jan 2006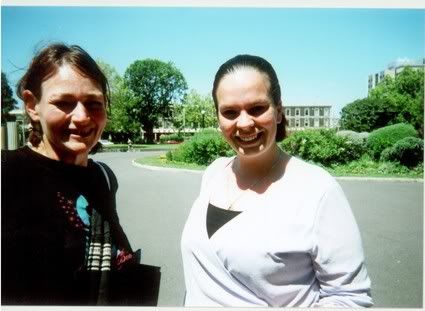 Me with Jadey after the Makeover Expo.
I really should get myself one of those newfangled digital camera things so it doesn't take 4 months for me to post photos.
::14.4.06::
Woohoo - the weight is going the right way again. I remember the heady days of 26 March when I weighed in at 74 kg and thought I'd soon be into the 73s. Three weeks later, I'm still not there and I'm not going to jinx things by saying I will be next week.
Something I've been thinking about lately, instead of setting a specific number as my goal , is giving myself a 10 week challenge and giving it my all for those 10 weeks then going onto maintenance at the end.
I'm only 4.5 kgs from the top end of my healthy weight range and in 10 weeks I should lose between 5-10 kgs. I figure this way to my body will find it's own level rather than me imposing a number on myself.
One thing I have to remember, this close to goal, my calorie input should be slightly lower. Not that I've been counting calories lately but for most of my weight loss I've stuck to around 1,500 calories a day. I'm smaller now so I need less calories and have to be more careful with my eating (discovered that the hard way over the past few weeks). I can't get away with too many treats any more.
So for my challenge I want to:
eat around 1,400 calories a day 6 days a week, with one day to ease off a little
do around 500 calories of cardio 5 days a week
run 5 km in under 30 mins
increase my strength training - I'm making a list on fridge: legs, arms, belly, legs, arms, belly - and I will check it off as I do the training
get adequate sleep.
I planned to post a few photos tonight - I finally got the pics of the Big Day Out and the Makeover Expo developed and took them to a printing place to get them scanned, but the guy scanned them all together and the file is too big to open in the graphics program on my dodgy old computer! If I take them over to Andrew's when I go to pick up my Veronica Mars fix, I'll use his computer.
I've been feeling mighty down today. I think it's because I've had so much on every weekend for the past month or so and suddenly I have this whole four days stretched in front of me with nothing planned. Everything seems flat and empty. And cold and friendless and blah. I guess I'm just in a sulky poor-me mood.
I've been awfully tired too. I find my Tuesday night class knocks me around a lot - I don't finish until 9.00 then I have to get home and it takes me a long time to settle. So on Wednesday I just want to come straight home from work but I make myself go to the gym and so on for the rest of the week. Being tired and in a sulky mood at the same time is the worst. I'm all shitty because I'm bored and have no plans but I don't have the energy to do anything anyway.
I went to the gym, planning to do spin class but I just wanted to run so did that instead. I definitely didn't have the energy or inclination to face a perky instructor yelling inspiring shit from the front of the room. At least on the treadmill, I'm in my own little ipod coccoon.
After that, I thought of going somewhere to eat. The city was filled with couples and groups all brimming with first-day-of-a-long-weekend excitement off to do fun things. Sometimes it seems like everyone leads a more interesting life than me. I ended up buying some rice paper rolls to eat on the tram and came home and read my book instead.
I start reading my book, The Perfect 10 by Louise Kean, and this is the beginning of the first chapter:

Here's what they don't tell you when lose seven stones in weight.

They don't mention the loose skin. They forget to tell you that you'll end up with a rice paper-grey stomach that wrinkles and crumples beneath pinched fingers like tissue paper. They don't divulge that on the upper inside of freshly toned thighs two flabby folds of stretched skin will stand guard over your pelvis, like a pair of spitefully unskinned chicken breasts, with a Stalinist determination not to budge. They don't let on about the pubic pouch that they guard so angrily, that refuses to deflate in line with the rest of you, lending your naked profile a hermaphrodite edge...
That made me scream -- I don't need to know that stuff, I don't need to think about it. And I hate it when someone writes really well about something I could have written. The story is about a woman who loses a lot of weight but her life isn't as perfect as she thought it would be. it really does hit a bit close to home at the moment.
::11.4.06::
I bought the Herald Sun today for the first time in my life so I could get my race time for the R4tK and scrolled through the lists for my name. I checked and double checked. Nothing. So I emailed the paper and they told me that they take responsibility but there was a disclaimer that they don't guarantee to publish all results.
Then later in the day I got an email from a friend asking if I had even gone in the race because she hadn't seen my name in the paper.... arrrrggh! It said on the front of the paper - results for all runners, not all runners except Kathryn and Linda.
I don't care about my time being published, I just want to know what it was. I'm so disappointed about that.
***
I have the most weird-arsed body shape. The magazines and people in the know call it apple shaped. I have thin extremities and carry all my weight around the middle. I don't think apple is the right way to describe it so today I decided I'm not an apple, I'm a star!
Whilst thinking all that, it dawned on my that my body shape is never going to change. It's going to shrink but I'll always have the same shape. This wasn't what I planned. In my mind, the thin me wasn't a 'Honey, I shrunk the Kathryn' version but my face on someone else's body. I want my money back -- do I get a refund for this?
I think abs are the hardest thing to reduce (although I can imagine everyone thinks this about their least favourite body shape). The thing is, with other bits you can work on reshaping as you reduce them but with abs, you basically have to strip every smidgeon of fat off your torso before the results even show. By that time, my arms and legs will be sticks. Surely there must come a time when my belly decides to give up it's fat. My dream is to one day know for certain if my belly button is an innie or an outtie.
In the meantime, I just have to remind myself that I'm star and I shine.
::10.4.06::
We had three people walk out of RPM class tonight. I've never seen that happen before. One girl walked out for the rest of the class and the other two pretended to go to the toilet, like that fooled anyone.

I felt like yelling out - Hey, you. Did you run 14.7 km yesterday? No? Well get your butt back here on that bike and keep pedalling.

And then, at the end of the class, I did the very thing I've been bitching about. I walked out before the stretching. I had a very good excuse though. My foot started cramping up something fiercesome so I had to get off the bike and put weight on it. Then I missed half the stretches so decided it was better to leave and do my own.

The results of the R4tK are in the paper tomorrow. I might actually buy it instead of waiting until Thursday for them to posted online.
::9.4.06::
Not only did I finish the Run for the Kids, I did it in under 2 hours. And that's including the 10 minutes or so I spent in the queue for the toilets. I really thought it would take me at least 2.5 hours but I got to the 10 km mark and decided I wanted to finish in under 2 hours so I pushed myself to the end.
I also thought I'd be walking most of the 14.7 km but ended up running (well jogging) for most of it. The only time I really didn't run was at the drink stops - I don't think I'll ever master drinking and running at the same time.
Every other time I've done a fun run, I've been holding out for the next km marker... thinking it must be coming up soon but today I passing them and thinking - have I done another km? I just seemed to be doing it so much easier. The only time I was looking out for the marker was at the 9 km mark, then I saw the 10 km marker so I'd gone past 9 without realising.
Some of the high points of the race:
At the 1 km, hearing the little Asian girl in front of me turn to her friend and say - have we only done one! Poor thing, but I had to laugh.
Running up Flinders Street and hearing the church bells ringing.
Running down the West Gate with all trucks hooting their air horns at us.
Crossing the finish line!
Some of the bad points:
Queuing for over 10 minutes for a toilet then realising the dude before me had left it in an unusable condition so having to wait for the other toilet.
Having the 4.5 km runners join up with us and having to dodge around people especially the mums with prams walking 4 or 5 abreast. Some people really need to get a clue.
There are a few things I'd do differently next time. For starters, I'd check the train timetable. I thought I'd left myself plenty of time but got to the station and it was over half hour wait for the train, meaning I got to the run with 7 minutes to get ditch my stuff and get to the finish line. I sprinted from the train, which was an unplanned warm up.
I should also have checked that the special Run for the Kids playlist I made for my ipod was actually on my ipod. I put it on to charge last night but it didn't update. And I forgot my water bottle.
Oh yeah, and maybe I shouldn't have walked the 3-4 km home! Yep, I'm that much of a glutton for punishment. Still it was a good cool down and I think my legs were on auto-pilot by that stage.
I can't wait to read how everyone else went.
::8.4.06::
I had another weight loss first last night. I've NEVER been to see a band and bought a t-shirt before. I've always assumed the women's fitted styles wouldn't fit, well mostly they are tiny fittings, and I've not wanted to spend money on a baggy men's style one. But I got the tiny, fitted women's one last night. Woohoo! It's tight and the t-shirt selling guy was a bit worried about the sizing - I wasn't about to explain my weight loss stuff to him over the noise of the crowd but it does fit.
You know, I've been alive in this body for many years and I should know its workings by now but it seems not. Let me just say, if I'm bitching about too much snacking and not losing weight in four weeks time just give me a gentle reminder that us women have menstrual cycles. As my sister and I used to say when we were kids (oh, we still do as adults too) - "spell red backwards". Yep - I'm a big DER!

I decided yesterday to have a massage before my run on Sunday to loosen up my lower back. I was planning on getting it done today but the only free appointment was at 6.00 last night. Fine by me.

I had a different girl from last time and she seemed a bit vague before she started but damn it was a good massage - she really focussed on the pressure points. I walked realising she'd fixed pain I didn't realise I had. Not just the massage either - she really knew her stuff. One of the things she told me was that my lower back problems are likely to be because my glutes are under developed compared to my other muscles and I should really work on them and my abs to help my back.

She also told me I had problems with my left hamstring. I told her no way so she touched it and I nearly jumped through the roof - had to agree with after that.

Now the sensible thing to do after a massage is to rest up and drink lots of water to flush out the toxins. So where was I a couple of hours later? In a hot, sweaty mosh at The Darkness. Oh my god it was great. I can't remember the last time I saw a band where the kiddies actually moshed. This was like old skool '90s stuff - crowd surfers even. And damn violent too. I lasted three songs before I was out of there. I figured it's better to watch the band than spend the night fighting for my life (well for my shoes anyway - they kept coming off).

I found my friend, Dave, and watched from a safer spot. Then someone had a seizure in the crowd so they stopped the show and mucked around on stage until they got the guy out. I've never seen a band do that before - they seemed genuinely concerned for his safety. You have to respect a band that does that. You have to also respect a band that rocks!

They came back on and I just had to run back up the front for my favourite song, like the big kid I am. A few songs later, I was ready to leave but they played a few AC/DC covers so I had to stick around.

A sweaty, bedraggled me finally limped out for the encore. I figured since I missed the gym yesterday, at least I got a bit of a workout. And yeah most of the kiddies up the front were younger than my son but there were a few old bastards (and at least I wasn't playing air guitar like them).

My sister and I used to go see bands often in the '90s. You'd think being thinner and a lot more fit now, I'd be able to handle the mosh better. But I realised last night it doesn't work that way. The one and only ingredient that makes a difference is booze. When you're drunk, you can get hurled around by the crowd without caring but sober you try to protect yourself.

I'm not sure what I'm doing today - was planning to do Pump class but I'm feeling less than ideal this morning. I'd put it down to a hangover if I'd had more than one beer. I have a horrid feeling I'm getting a cold. It's hard to know how much is illness pain and how much is from my battering in the crowd.

On the one hand, I didn't do a workout yesterday so feel like I should today but on the other, I want to be all fresh and peachy for the R4tK tomorrow. Maybe I'll just do some weights etc at home later today. I might even do my yoga dvd. Then I think a quiet night with a carb heavy dinner and an inspirational movie - maybe Rocky or maybe Gallipoli. What are your legs?
::7.4.06::
Arrrgghhh - another gain this week. I'm not too fussed because I've been a little constipated lately but this gaining trend is stopping right here. I'm going to go back to counting calories - I've not done that for a while and it's too easy to forget what I've eaten. I can't afford to do that... I'm determined to get to goal.
::6.4.06::
I was so cold today that I popped into Katies after work and got some pants. I've had no work pants since last winter and I threw them out ages ago. I put them on after the gym - it's so much more bearable waiting in the cold for the tram than it is in a skirt.

You know what else rocks? When you try on pants and you know it's better to get the smaller, slightly tight pair than the larger, looser pair because the small ones will end up loose anyway. And, woohoo, the smaller ones are size 14.

I've so not felt like going to the gym the last few nights - it's been so cold and I've been so tired - but I've forced myself. Sometimes I deserve a frigging sainthood, I really do. I wasn't so good tonight though. Normally I am so hungry after the gym but wait until I get home, or if I do buy food I get a sushi roll. Tonight though I decided to get dinner in the city so went to a Japanese place on Swanston Street and got a bento box. You'd think that would be a safe choice but oh no. It came with fried spring rolls - very oily ones. Damn it. I could have left them but didn't. They weren't even that nice. I was just famished. It also came with this stuff like cold mashed potato - I wasn't hungry enough to eat that.

I've decided I need to try much, much harder with my food intake. No more mucking around. At the end of May I'm going home for my sister's birthday. Last time my family saw me I was just under 90 kgs and this time I want to be at goal. Then, in July, two old friends I haven't seen for years are having a joint 40th. Much incentive to look dazzling!
::5.4.06::
I had to laugh at Shauna's comment below about people who run out of gym classes without doing the cool downs. So many people do that at my gym - it's like it's just not cool to cooldown. Not me, I'm a real cooldown geek. Even if I intend sticking around to do some cardio or whatever after the class, I'll still stay around for the stretches. When you get to my age, your wrecked old body needs to wind down slowly.
My favourite cooldown is in Body Balance classes because you get to have naps. They call it meditation but I remember nap time from school (it was my favourite subject - in the words of Ralph Wiggum - 'sleep, that's where I'm a viking').
***
I went to boxing class today for the first time since before Christmas. Boxing is definitely my favourite exercise class. My gym has just put out a new timetable and this is a new session. It went great because we started with the basics. Everyone in the class I used to go had been doing it for ages and so the instructor would give us complex combos that confused the hell out of me so it was really nice to be able to keep up. And the teacher said my upper cuts were perfect!
***
I so didn't want to go to the gym tonight but after yesterday's post felt like I couldn't NOT go. It's good to have these public declarations to keep you on the straight and narrow. Now I just have to cut back on my snacking - I've been having far too many "tiny" treats lately.
::4.4.06::
I was having a think the other day, about the best bit of diet advice I could give (and this is something mentioned by
Dietgirl
and
M
recently, but I thought it before I read them... I'm not ripping them off, honest injun).
The one thing that works, that equals success is to start and
keeping going
. Keep going no matter what. Not letting a bad day or a bad week or the hugest boulder in your path stop you.
A year ago, I thought I could lose a few kilograms. I knew even losing 10% of my body weight, would have health benefits as far as my diabetes goes. So I started... like I had so many other times. And the only difference is, this time I didn't stop.
When I was young, I went to a tea leaf reader and she told me I'd lose a lot of weight. She said I'd meet a man who'd support me and he'd say things like - if you can diet for a day, you can keep dieting. I've never met that man, and for a long time I couldn't diet for a day. I couldn't diet until mid morning. But then something clicked (and who listens to tea leaf readers anyways?)
Even after I started losing, for a long time I waited for the "magic" to stop. I found it hard to trust I could keep things up and, even though I was losing, I didn't even mention my goal to lose 40 kgs to myself, let alone anyone else.
It amazes me just how far I've come - not just me but so many others. People who's blogs I've been reading over the past year. I read recently only 10% of weight loss efforts work. I'd love to see the statistic on that for bloggers - I bet we'd kick the butt of those stats. I can't think of anyone on my link list that doesn't show steely persistance.
About a year ago, I challenged myself by walking to the local 7-11 and home again. It seemed like a huge thing to do and, for the last half a km I felt like dying. If a cab had been nearby, I'd have flagged it down to get home! I felt like that on Saturday too but this time it was 12 km not 3 and I ran most of it. That's just one of the small changes in my life that astounds me.
Anyway, I'm interested - what other advice or wisdom do you think has helped you change to a healthier life?
::3.4.06::
I saw the funniest thing at the gym today - have you ever watched people do Body Jam class? It reminded me of that Fat Boy Slim video from a few years ago. The instructor was getting so into it but he just looked so wrong. I was trying to do my stretches but I kept cracking up.
Lately, there have been some things bugging me about my gym. Do these things annoy anyone else:
Instructors who rush through the stretches at the end of the class? You always get told to told stretches for at least 20 secs so how come it's okay to do a 5 sec quad stretch after spin class?
Instructors who put on music so loud, you can't hear them over it? I've been caught out a few times in spin class - I just follow the instructor and don't realise they are showing us what NOT to do.
Or even the music in the gym being played really loud. Sometimes I have to have my ipod up full volume when I'm on the treadmill to drown out their shitty dance music. I'm sure that isn't good for my ear health.
Personal trainers who do their personal training close to my head when I'm stretching (or doing that lying on the mat trying to get the energy to get to the change room thing after stretching).
Instructors who sing along with the music. Don't. Just don't.
Instructors who want class participation. In the singing, not the exercise.
But I do like that we now have yummy Nivea apricot body wash in the showers instead of that generic soap stuff.
::2.4.06::
I've had a good day - been full of beans, must have been that extra hour of sleep.

I decided to clean the bathroom today - the housework in this house gets so neglected. I guess that's the problem with share houses. So I went to grab my ajax from the kitchen and it's gone! I can't imagine anyone scabbing a thing of ajax... it's not like it's chocolate biscuits or anything good. I scrubbed as best I could without it but it was not easy.

It's so nice to have a weekend at home to get things done - laundry and cleaning and all that boring shit. The past two weekends have been such a whirlwind that things have got so unorganised.

After all that, I went into the city to do an RPM class. I got there early so popped into Borders and browsed through some running books. One of them said that the basic strength exercises you need to do are squats, crunches and push ups - if you don't have the time or inclination, then they are the exercises you should focus on. So I'm thinking on concentrating on those for the time being.

The RPM class was strange. We seemed to spend a lot of time doing recoveries. I don't go to class to recover. We had two instructors. I think one was new because she looked like a spotlit rabbit for most of the class. The other one seemed like he'd come straight from a nightclub and his party drugs hadn't worn off yet - he was all with the woops and woos! I kept expecting him to pull out a disco whistle.

After that I went to visit my son and got the latest episodes of Veronica Mars from him. That show is like crack cocaine to me.

On the way home I went to the supermarket and stocked up on food until payday. I have been having trouble thinking of meals - and not having a microwave at the moment doesn't make things easy - then I remembered stir fries. I haven't made one in ages.

Also, this is so stupid, but I never buy sausages because I figure if I buy a pack at the supermarket, I'll show no self control. But I was at the butchers today and realised - der - I can just buy one or two there. I got chicken and chive ones. Yum.

I had a chicken and hoisin stirfry for dinner and watched the latest Veronica Mars and got everything sorted for work tomorrow. That's about it. Not an exciting day but I feel content and like I've acheived a lot.
I couldn't get online all day yesterday. How damn frustrating!

I went for a run yesterday. I figured it was around 12 km - 3 km from my place to Princess Park, 2 laps of Princess Park which I think is around 3 km per lap, then home. I ran most of it except for the 3 km home. I'm not too sore today either, but I know which bra I won't be wearing next week for the R4tK.

Speaking of which, I realised I have to do the most important part of my preparation - make a playlist on my ipod. I'm getting pretty sick of all the songs I have on there so I might see what Andrew has on his computer, if I can track him down -- he seems to spend his weekends hanging out with his mates now.

I'm really hanging out for when I start getting paid regularly from my job - I desperately need winter clothes. Last night I put on the vinyl jacket I lived in last winter and it's huge on me! I need work clothes too, I'm getting very sick of wearing the same two outfits.

I'm thinking of getting up earlier and doing morning exercise now that daylight savings has ended. I figure if I start now, I can get up at 6.00 and still think it's 7.00. That's the theory anyway, I'll see how I go.